Updated 8.22.23
Although many people believe that K-12 institutions are entirely responsible for emergency preparation and response on campus, school safety impacts the community at large. In the event of an active shooter or crisis situation, a lack of communication often prevents coordination between schools and local agencies, delaying emergency response and threatening the safety of students, staff and first responders. Rave Mobile Safety, a Motorola Solutions company, provides critical solutions, including the Rave 911 Suite and Smart911, that facilitate communication and collaboration for fast, effective emergency response.
The Rave 911 Suite is a collection of tools for 9-1-1 response teams. The platform offers communities the ability to create a database of community provided information, such as personal safety and health related information that provide dispatchers with critical data that informs emergency response. With access to additional sources of information, The Rave 911 Suite can streamline data-gathering and support fast, accurate response planning.
Enhanced location data-sharing features provide dispatchers with essential tools to support their colleagues and communities. And integrated two-way communication tools drive positive engagement and improve situational awareness. With Rave Mobile Safety, it's easier to get the right information to the right people at the right time.
What Are the Most Popular Features of The Rave 911 Suite?
The Rave 911 Suite provides emergency response professionals with crucial functionality:
Critical 9-1-1 Caller Info: View the caller's name and address, medical conditions, photos, pets and household members through Smart911, or use notes to identify frequent callers.
Two-Way Communication: Initiate two-way text messaging and live-streaming video from first responders and on-scene bystanders.
Enhanced Location Data: Supplement existing automatic location identification (ALI) information with improved e911 location tracking, and access floor plans and other facility information.
Access & Functional Needs Registry: Connect to a web-based, resident-sourced access and functional needs population registry as necessary for analysis, planning and emergency response.
The Rave 911 Suite Supports Effective Preparation and Successful Outcomes
The Rave 911 Suite gives authorized users access to additional information about facilities, communities and residents. Emergency organizations can access integrated cloud-based communication via a data platform with direct connectivity to 911 centers and emergency networks. Additionally, the suite boasts deep industry expertise, support from the Rave Mobile Safety customer success team, high customer satisfaction and a strong referral base of over 10,000 clients.
When every second counts, dispatchers and first responders can get the vital details they need to develop and deploy an effective response plan. For example, in a situation involving an active assailant in a school, responders can use accurate, up-to-date floor plans to choose the best ingress and egress routes.
Help your school or emergency organization prepare for success with Rave Mobile Safety's collection of training materials and resources. These materials help ensure your staff understands the capabilities of The Rave 911 Suite and can use them to the fullest extent for the best results.
Increasing Situational Awareness for Faculty and First Responders
The Rave 911 Suite is designed to help administrators and first responders better prepare for the unknown. Instant access to critical information reduces uncertainty, improves situational awareness and greatly accelerates response times during crisis situations.
Rave Mobile Safety is constantly finding new ways to enhance functionality and offer better communication and collaboration performance. Recent improvements help gather accurate, comprehensive data that provides users with new insights that drive better outcomes.
Live Video Streaming: This feature gives dispatchers, first responders, administrators and authorized users a real-time look at the scene.
Chat Location Query: Telecommunicators can initiate a location request to a mobile phone to gather precise, accurate tracking data.
Georeferenced Floor Plans: Dispatchers and first responders get access to critical details about a building's layout, which they can use to finalize response plans.
Use Video From the Scene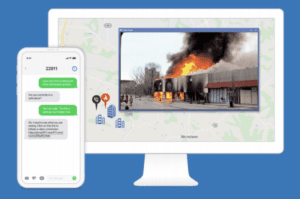 First responders, bystanders, emergency callers and anyone with a smartphone can initiate a live video stream. With one click, onsite individuals can send video to a telecommunicator, police chief, school administrator or en route responder. Real-time video provides essential details of the situation and opens two-way audio communication, allowing the dispatcher to ask questions or provide instructions.
Gives PSAPs greater, faster insight into the situation
Eliminates miscommunications, oversights and delays common in radio communications
Industry-standard encryption protects sensitive information
Gives public safety professionals control of the video session
Access Precise Location Information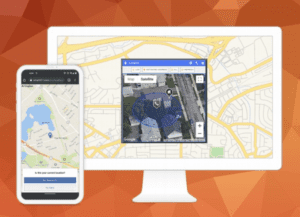 Communication is a fundamental tool for an emergency call center, and it's no longer limited to traditional voice calls. With Rave Mobile Safety's solutions, a telecommunicator or first responder can initiate a text conversion with a mobile caller who may not be able to speak.
Non-verbal communication can be life-saving in situations when speaking out loud is impossible or dangerous (e.g., during an active shooter event in a school). These advanced communication tools also provide telecommunicators with automatic language translation, an access and functional needs registry and the ability to communicate with callers in remote locations with poor connectivity.
If ALI is poor, a telecommunicator can initiate a text-based conversation to request location in one click via a web link.
Dispatchers can utilize automatic location tracking to dispatch first responders, even with minimal location data provided by the caller.
Telecommunicators can instantly resume communication following a dropped call, saving time and minimizing panic.
Use Building Details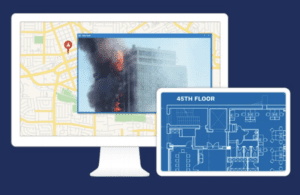 First responders and dispatchers can overlay georeferenced floor plans directly on a map, improving situational awareness and eliminating the danger of entering a school or building without critical knowledge of indoor spaces. These floor plans allow first responders to provide a more effective response.
Advanced mapping capabilities also provide context for how buildings align with nearby structures, roads and parking lots, giving first responders a clear, detailed picture of the local area. Better situational awareness contributes to safer, more effective responses.
Share room information, floor layouts, exit points and critical structures before entering a school or facility.
Increase situational awareness and improve response outcomes with better maps and details.
Give emergency commanders the essential data and context they need to make crucial decisions.
"The tools that Rave 911 Suite provides fundamentally change the information available on every 9-1-1 call." – TODD JOHNSON, CHIEF DEPUTY, NEWBERRY COUNTY SHERIFF'S OFFICE, SOUTH CAROLINA
What is Smart911? 
Smart911 is a community-focused platform that allows residents to add personal details and information to a secure database. Residents can provide as much or as little information as they'd like, and authorized users (e.g., dispatchers and first responders) can access it during an emergency.
The Smart911 app is free to download. Anyone can use it to create a Safety Profile and receive targeted alerts for local emergencies and events. Smart911 gives telecommunicators and first responders critical information that they can use during emergency response and recovery.
When a user with a Smart911 Safety Profile calls 9-1-1, the information in the profile displays on the telecommunicator's screen automatically. This gives them access to the information the user provided: addresses, household members, descriptions of pets and vehicles, medical details and emergency contacts.
Because Smart911 is a national service, a user's Safety Profile travels with them. It will be visible to any participating emergency call centers across the country.
"Up to forty percent [of people on the autism spectrum] do not speak. This is important information for emergency responders to know and Smart911 makes that possible." – Scott Schuelke , Autism Safety Specialist

Learn More Today
Emergencies can happen anywhere, and they affect everyone in the local community. Schools, businesses, medical facilities and local government organizations must work together with first responders to ensure positive outcomes.
Rave Mobile Safety offers Smart911, The Rave 911 Suite and a range of other critical communications solutions that support better coordination and collaboration between key stakeholders. To find out more about how The Rave 911 Suite can help protect your school or organization, request a demo or contact the Rave Mobile Safety team.