Newsroom
FEATURED NEWS STORIES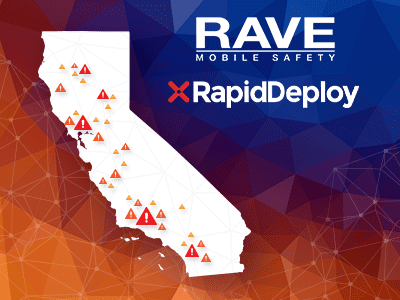 Rave Mobile Safety announced today that it is leading the world's largest public safety data sharing project in California. The state's 450 PSAPs handle nearly 30 million calls a year and will benefit significantly from the project's CAD interoperability and real-time information exchanges.
Officer.com: Arizona Selects Motorola Solutions' Rave Alert As State Emergency Notification System
November 1, 2023
CHICAGO— October 30, 2023— Motorola Solutions (NYSE: MSI) today announced that the state of Arizona has selected Rave Alert to enable emergency notification and reverse 9-1-1 alerting in its 81 public safety answering points (PSAPs). With the cloud-based tool, each 9-1-1 center in the state can now send mass communications to residents and state employees
PRESS INQUIRIES
Contact Public Relations
Connect with out Public Relations team to discuss media or speaking opportunities with Rave experts. Get in touch with our public relations team today!
Visit Our Blog
Start a discussion or contribute to a hot topic in our online community dedicated to anyone involved with emergency preparedness and response. 
Follow Us On Social Media
Stay up-to-date on the latest news, events, and innovative ideas.