Newsroom
FEATURED NEWS STORIES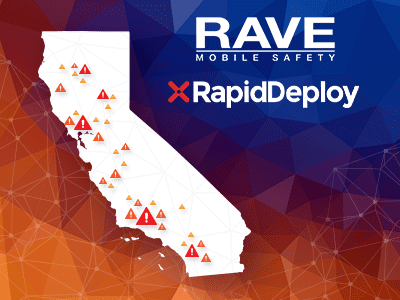 Rave Mobile Safety announced today that it is leading the world's largest public safety data sharing project in California. The state's 450 PSAPs handle nearly 30 million calls a year and will benefit significantly from the project's CAD interoperability and real-time information exchanges.
CHICAGO—August 8, 2023—Motorola Solutions (NYSE: MSI) released the findings of its 2023 K-12 School Safety Report which captured sentiments from 1,000 K-12 parents and 1,000 K-12 educators across the United States. The timely research reveals the most pressing concerns for those closest to school safety and highlights their perceptions about emergency preparedness plans, communication practices,
PRESS INQUIRIES
Contact Public Relations
Connect with out Public Relations team to discuss media or speaking opportunities with Rave experts. Get in touch with our public relations team today!
Visit Our Blog
Start a discussion or contribute to a hot topic in our online community dedicated to anyone involved with emergency preparedness and response. 
Follow Us On Social Media
Stay up-to-date on the latest news, events, and innovative ideas.