Public information is vital, whether during the day-to-day non-emergencies or during a public health disaster such as the coronavirus pandemic. To keep emergency and disaster operations running smoothly, public information officers (PIOs) have an extremely important duty in sharing critical information with communities in order to save lives and protect property.
Let's take a closer look at the role of a PIO, a day-in-the-life, their crucial duties, and how to become a public information officer.
What Does a Public Information Officer Do? 
Public information officers typically work for state and local governments and must create and enable clear and concise communication between a government agency and both news media outlets and the general public, according to The Balance Careers. A PIO must promote a positive public image with statements released to the press and the community following government guidelines, being completely accurate and adhering to official policy or laws.
Outside of government, this job is commonly known as a public relations specialist or a communications specialist working in private organizations.
Below, find a day-in-the-life graphic provided by The Balance Careers: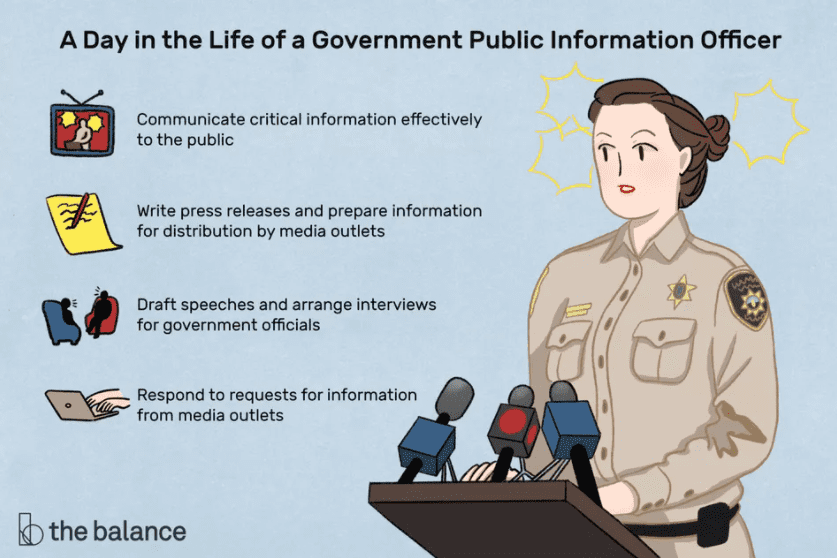 The Crucial Duties and Responsibilities of a PIO 
Communicating with the public and with the press is a crucial duty of a PIO. Making sure the community has a good understanding of what is going on – whether during a severe weather event, global pandemic, or run-of-the-mill road closures – is key. The press also needs a clear picture, as it's important that there are no misprints or mistakes that could cause panic or upset.
Better Team bullets out other important responsibilities as follows:
Planning and hosting press conferences to announce major news or address crises.
Preparing press releases, speeches, articles, social media posts, and other materials for public consumption.
Developing strategies and procedures for working effectively with the media.
Maintaining good working relationships with media organizations.
Collaborating with executive management and the marketing team to ensure a cohesive public image.
Working with various teams to organize and host public events and promotions.
Speaking directly to the public or media to address questions and represent the organization.
How to Become a Public Information Officer
To become a public information officer, you must have certain traits or characteristics to help you excel in this role. Being able to articulate and communicate efficiently is paramount, especially when it comes to public speaking and interpersonal skills.
State and local government agencies are often looking for an individual who has experience in public relations – potentially a bachelor's degree in Communications, Public Relations or Journalism – as well as a strong understanding of the media including social media. 
PIOs also are required to travel on short notice and are expected to be extremely organized and detail oriented. Additionally, a candidate should also have exceptional writing skills for press releases, speeches, articles and more.
What Technology Tools Help PIOs Do Their Job?
It's no secret that public information officers have a lot of responsibilities. Relying on technology can be hugely helpful, especially during an emergency. A mass notification solution is one way to reach large amounts of people with just a few clicks of a button. A platform that can reach communities via text message, phone call, email, social media, digital signage and more is essential. Because communicating with the community is critical during any event, having the means to do so quickly is vital. 
Mass notification with SMS opt-in is also a great way to get consistent messaging out to specific groups of people. For example, a public information officer could set up a keyword "COVID" and encourage citizens to opt into messaging surrounding the pandemic, such as daily numbers, testing sites, and helpful resources. Watch the video below to see how SMS opt-in works: 
Another helpful tool is a tactical incident collaboration platform. During any kind of event, state and local government agencies can rely on this solution to provide order and clear instruction to a sometimes-hectic situation. With automated alerts, the assignment of critical tasks, event-specific access to resources, and an extensive recording of all responses and actions during an event, PIOs can be a part of the incident collaboration during any kind of incident and understand exactly what is needed of them.