The COVID-19 pandemic has forced K-12 schools to transition to virtual learning, and along with teaching challenges, administrators are contending with a continued rise in cyberbullying. Many young people are finding the majority of their social interactions online amid social distancing and lockdown measures. While these interactions over Zoom, FaceTime, or social media platforms like Instagram, TikTok, or WhatsApp can be positive social behaviors by encouraging students to stay connected, the shift into the digital sphere has also come with an alarming rise in online harassment and cyberbullying.
What Do COVID-19 Surveys Reveal About Cyberbullying?
Many initial surveys are finding an alarming increase in instances of cyberbullying. L1ght, an organization that monitors hate speech trends, conducted a survey to discover the impact our new dependence on online platforms for communication, work, entertainment, or learning is having on hate speech and online toxicity. L1ght discovered a 70% increase in hate between kids and teens during online chats in recent months. The organization also discovered a 40% increase in toxicity on gaming platforms, such as Discord or Twitch, as well as a 900% increase in hate speech against China and people who are Chinese on platforms like Twitter. 
There are many reasons that the continued need for virtual learning is correlating with cyberbullying, including increased screen time and online use both in school and out of the classroom, students who are idle or bored as well as the stressful and potentially socially isolating conditions of the pandemic. Unfortunately, these instances of bullying can potentially exacerbate a growing national mental health crisis, which shows nearly three-quarters of people in the United States are experiencing depression, nearly three times the number pre-pandemic, as per NPR. Many students, who have lost access to the high school guidance counselors who provide critical mental healthcare, will likely be among those struggling with mental illness
Administrators should make a proactive effort to understand where cyberbullying is occurring and why, and address both the root causes. This will also require communication with parents and teachers, who play a key role in monitoring vulnerable students amid cyberbullying risks and encouraging all students to practice positive and inclusive online behavior. 
Why Is Cyberbullying On The Rise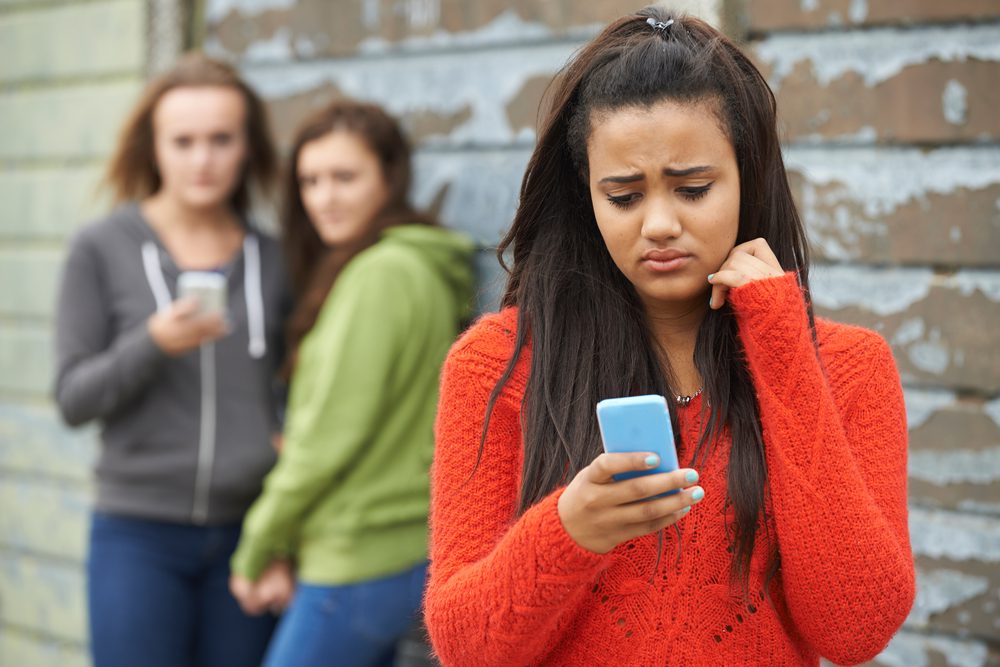 The advent of virtual learning has come with an inevitable increase in screen time for K-12 students. Many school districts are continuing to rely on virtual classrooms, either as part of a hybrid-model with in-person learning or as a long-term strategy until a vaccine is approved and public health officials deem it safe to return to campus. This means an increase in the use of virtual learning platforms such as Google Classroom, Zoom, Blackboard, Canvas, or other tools. It's critical to train educators on these tools before implementing them in the classroom, to prevent the use of any features that might be conducive to cyberbullying behaviors, such as using a private chat function.
Even before the coronavirus pandemic, students were beginning to spend more of their social lives online. In 2019, the Cyberbullying Research Center found that students spend upward of an hour every day on Netflix or YouTube after school, as per VeryWell. Since these numbers are self-reported, it's likely that the statistics are higher, but these statistics show that students were spending a significant portion of their day online even pre-pandemic. One other important factor is how the pandemic is stretching parents thin, forcing many to balance work with childcare, meaning parents' capacity for online supervision might be diminished. 
Additionally, new pandemic-related stressors have also contributed to an increase in cyberbullying behaviors. COVID-19 has unleashed a storm of adverse conditions, from school closures, parental unemployment, food scarcity, or social isolation, all of which can be destabilizing and result in real trauma for young people. Richie Neils, a Coordinator of Supporting Early Education and Development, urged parents to be aware of how quarantine conditions might be affecting behavior in an interview with ABC News. "It is that social isolation, that feeling of being trapped, the feeling of having unbearable pain that could lead to more harmful thoughts, actions, and behaviors," Neils said. 
It's also become harder for guidance counselors to reach students who are struggling. While counselors would typically be in classrooms teaching students about bullying and how to manage negative emotions, the pandemic has greatly limited the access these workers have to vulnerable students. K-12 leaders should consider implementing bullying prevention programs in a remote setting. A comprehensive cyberbullying prevention plan can include expanding communications, ensuring teachers, parents, and administrators are all in contact to understand the increased risks, but also that students can report concerns or seek help. 
How K-12 Schools Can Prevent and Respond to Cyberbullying 
Parents should be on the lookout for warning signs – if a student becomes despondent, exhibiting drastic behavior, withdrawing socially, or experiencing changes to sleep or appetite, all could be a sign a student is struggling. Neils advised that parents who are engaged and sympathetic will be better able to identify and address instances of online harassment. "If you are seeing these things happening with your child it is good to just talk to them, more so to listen and hear their story, what is going on in their lives," Neils told ABC News. "Offer support and validate their feelings as well and make sure of reminding our kids that them being bullied and cyberbullied is not their fault." 
Administrators can also engage parents and teachers in anti-cyberbullying measures with a mass notification system. The tool can also be used to poll students about their mental health. These messages can remind teachers that they should be discussing the negative effects of cyberbullying in the classroom giving students a refresher on appropriate and respectful online behavior. Communications can also include important warning signs for students who are struggling, as well as any relevant resources, such as virtual office-hours for guidance counselors.
An anonymous two-way tip texting tool can also be a powerful medium for increasing situational awareness. The tool, which allows students to report suspicious or concerning behavior to school officials or local safety teams, can help identify instances of cyberbullying that teachers are missing in the classroom. If a student spots concerning behavior, either in a virtual classroom or on social media, they can be connected with relevant responders. This proactive approach can help bridge the gaps in communication emerging as a result of an extended period of virtual learning.