"You can't get to true prevention until you understand who the motivators are and why they are motivated." 
Dr. Jillian Peterson, a forensic psychologist and professor of criminology at Hamline University in Minnesota, shared the above logic and other keen observations during an insightful TEDXHamlineUniversity talk titled, "How to Prevent School Shootings." Dr. Peterson is the first of two keynote speakers headlining this year's annual Rave Summit – a three-day event designed to help safety-focused professionals, "Build Resilience Together." 
Get to Know Dr. Peterson
During her Rave Summit keynote, Dr. Peterson will get Summit attendees thinking more deeply about one of the greatest scourges of American society – mass shootings. The topic is one that Dr. Peterson is uniquely qualified to speak about given that she spent four years looking into the lives of mass shooters dating back to 1966. As part of that effort, she, criminologist James Densley, and a group of Hamline students analyzed 50 pieces of each mass shooters' life history including any early childhood trauma, their peers, their social media activity, schools attended, their interest in past shootings, mental health issues, and other data. They also looked at the communities where perpetrators lived and spoke with those incarcerated for mass murder. Their findings can be found in the highly acclaimed book, The Violence Project: How to Stop a Mass Shooting Epidemic. 
Dr. Peterson's curiosity about criminals took shape during her first job at the New York Public Defenders Office where she was assigned to a special unit charged with investigating capitol offender death penalty cases. It was there that she and her peers began to believe, "the worse the case, the worse the story." In her TedX talk, Dr. Peterson explained that with each case she encountered, that saying rang true. "It never excuses the crime, but you can see the pathway that gets someone to the point of murder," Peterson said at the time. That pathway is less clear, though, when it comes to mass shooters. "When it comes to mass shootings, we do not understand the pathway and because we don't understand it, we can't prevent it. All we can do is react. It's understanding that pathway that lets us prevent future violence," Dr. Peterson cautioned. 
Dr. Peterson's keynote will emphasize the importance of understanding the motivation behind the madness. 
Rave Summit Day 2
The Summit's second day keynote will also look at motivation – albeit differently. On September 29, Brett Culp will deliver an equally impressive keynote that advocates for the acceptance of change. An award-winning documentary filmmaker and social entrepreneur, Culp has released several films that have been featured on Netflix, Apple TV, Hulu, and Amazon Prime. As personal cinematographer for Hollywood stars, music icons, beloved authors, hall of fame athletes, and royal families, Culp has witnessed fortitude and motivation in a multitude of ways. His experiences have helped to re-frame his vision of leadership to an art form that encourages people to connect and make a difference together.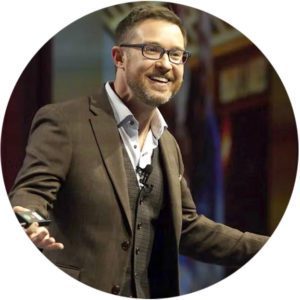 According to his website, Culp's projects are collaborative efforts that pull diverse groups of people into dialogue and ultimately lead to stronger communities and greater impact. The engaging storyteller has developed an expertise for creating 'mini-movements' that foster the heroic spirit in everyone – and will challenge Summit attendees to do the same in their worlds.   
Culp has been featured in USA Today, Entertainment Tonight, WIRED, The LA Times, The Hollywood Reporter, and other media outlets. He encourages audience members to embrace their inner leader during uncertain times. For the typical Rave Summit attendee – those that work in public safety, emergency management, or campus security roles – uncertainty is familiar territory. Thus, the reason Culp was selected to deliver keynote remarks. His belief that "real leadership is inviting people on a mission to do something extraordinary together" is sure to resonate with attendees who work in pressure-filled life safety roles each day. 
Join Us for Two Captivating Speakers
The 2022 Rave Summit is a free, virtual program taking place September 27-29. Rave customers and those interested in learning more about innovative safety solutions can attend technology solutions training sessions on day one and then benefit from two days of educational and roundtable sessions on days two and three. All Summit content will be available to registrants on demand for 12 months.