In the fast-paced world of corporate dynamics, the importance of employee safety has never been more pronounced. Businesses today recognize the imperative of a robust safety infrastructure – not just as a regulatory requirement but as a core tenet of corporate responsibility.
Enter the era of "Duty of Care."
Five decades after Congress enacted federal Duty of Care laws, the commitment to workplace safety continues to evolve. Business leaders look for ways to place a high priority on employee well-being and personal safety. Advances in safety technology have helped shape the future of organizational and workplace safety strategies.
At the forefront of this evolution? Rave AppArmor safety mobile app.
The Rise of Duty of Care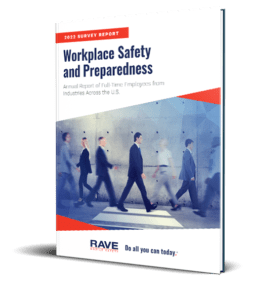 The phrase "Duty of Care" is no longer just legal jargon. In the corporate realm, it signifies a company's ethical and moral obligation toward the safety and well-being of its employees. There must be more than just ticking checkboxes on a list of OSHA requirements. It's about understanding that your most valuable assets are your people and ensuring they are protected, no matter where they are.
In our Winter 2022 Workplace Safety and Preparedness Report, 79% of the 550 employees surveyed shared they feel safe at work. While employee survey respondents acknowledged advances in emergency preparedness and personal security, barriers to communication and access to emergency procedures left respondents with higher anxiety levels than ever.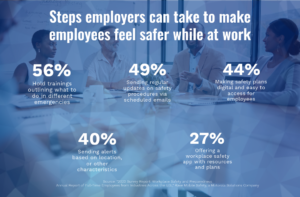 Although communicating emergency plans is critical, employees reported that there are a host of steps they would like to see their employers implement to give them more piece of mind, including:
By taking employee considerations into account, employers can map their safety strategy to address the concerns shared and gain valuable buy-in from employees.
Digital Transformation in Safety Technology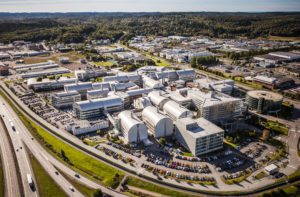 Safety technology has transformed how companies prove their commitment to employee safety. This trend is about leveraging technology to ensure rapid action during crises by providing employees with platforms to report concerns or incidents immediately. Companies are turning to digital solutions, recognizing the need for immediate and reliable two-way communication, response mechanisms, and real-time alerts.
When global pharmaceutical giant AstraZeneca wanted to minimize emergency response times, site security and emergency response manager James Lee turned to Rave Mobile Safety to overhaul their safety communication strategy. Lee and his team started by extending the capabilities of their new command center.
"We have transitioned from paper-based security procedures to a full-fledged digital system that offers advanced alerts and robust two-way communications. Our new digital approach puts the right information in the hands of the right people at the right time."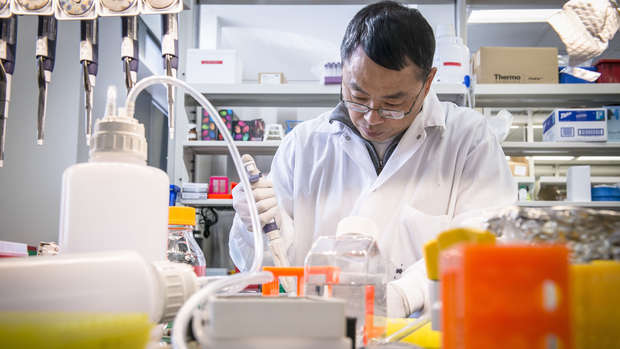 In addition to Rave Alert and Rave Collaborate, the pharmaceutical firm uses AppArmor as its primary mobile app for communications, forms, and requests. This move streamlined operations and ensured that employees built muscle memory for emergencies.
AppArmor Leads Emerging Trends in Safety Solutions
In understanding these emerging trends, Rave Mobile Safety provided a solution that encapsulates the essence of proactive corporate safety – AppArmor. What makes it the go-to solution for companies?
1. AppArmor is customization at its best. Safety isn't a "one size fits all" approach.
Every organization is unique, and so are its safety needs. AppArmor offers a customizable platform that aligns with your company's specific requirements and reinforces your company's brand identity.
CDW, a Fortune 500 information technology company with offices in the United States, Canada, and the United Kingdom, wanted a way to connect easily with their 14,000 employees in the field at a moment's notice.
Customization needs vary from industry to industry and are based on each company's goals, so employees benefit from having emergency information at their fingertips. While many safety applications can adapt to different niches and industries – Rave AppArmor delivers a highly customizable solution – far beyond adding a company's brand identity.
2. Real-time alerts deliver when every second counts during emergencies.
AppArmor provides real-time alerts ensuring that stakeholders are informed instantly, facilitating quicker decision-making.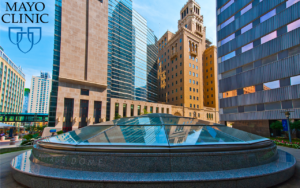 "Sending an alert is as easy as a few clicks," says Mayo Clinic senior security analyst Dan Nash. The world-renowned hospital and research organization has facilities across the continental United States, London, and Dubai. "We send many alerts, communicating everything from a mass casualty event to an emergency staffing situation, where we might require personnel to stay beyond their shift. Some of these alerts may be related to severe weather; that could mean tornadic activity for those in the Midwest."
"For some events, we need more precise notifications. When we need to reach Mayo Clinic leadership and get them together to make rapid decisions. With our incident command alerts, the Hospital Incident Command System (HICS) teams receive the message and can also check in and respond."
3. AppArmor users say the solution's ease of use simplifies adoption and deployment.
A safety solution is only effective if it's user-friendly. AppArmor boasts an intuitive design, making it accessible for all employees, regardless of their tech proficiency. The user interface reinforces the need for speed.
"Sending an alert is as easy as a few clicks," says Mayo Clinic senior security analyst Dan Nash. "We send many types of alerts, communicating about everything from a mass casualty event to an emergency staffing situation, where we might require personnel to stay beyond their shift. Some of these alerts may be related to severe weather. For those in the Midwest, that could mean tornadic activity."
4. Empowerment through information breeds confidence and builds trust.
Beyond alerts, Rave AppArmor offers an easy-to-use content management system to create or add to a company knowledge base. This ensures employees are well-informed about safety protocols, mental wellness, facility, and operational information.
"We resolve situations faster because we no longer manage phone calls or clear up miscommunications. We have improved our in-the-moment decision-making and set up a region-wide backend to replicate this success at our other North American facilities. Our department and our employees are better for it."

– James Lee, Site Security and Emergency Response Manager

AstraZeneca
Integrating Safety into the Company Culture
For businesses to truly embrace the philosophy of Duty of Care, it's essential to integrate safety into the very fabric of the corporate culture.
Regular department and company-wide safety training need to include your safety technology.
Transparent communication before, during, and after an emergency builds trust with employees and stakeholders. Anxiety can be decreased for employees and stakeholders when clear, relevant, and timely communication occurs.
A continuous feedback loop to fine-tune your company's emergency response. Employees should feel empowered to voice concerns and be confident in the company's commitment to their well-being.
The Bottom Line
As the corporate landscape evolves, the emphasis on safety and Duty of Care will only intensify. This isn't just about compliance or public relations; it's about genuinely caring for your people.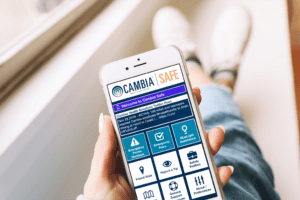 Companies that prioritize safety not only foster a sense of loyalty among employees but also enhance their brand reputation. After all, a business that takes care of its own is more likely to be trusted by its clients.
Rave AppArmor is not just a tool – it is a declaration. A declaration that says, "We value our people, and their safety is our utmost priority." In a world where corporate responsibility is under the microscope, Rave AppArmor emerges as a beacon, guiding companies toward a brighter, safer future.
For companies seeking to lead in employee safety, adopting Rave AppArmor provides a robust start to evolving your existing safety strategy. Dive into the future, where Duty of Care isn't just a trend but a way of life. Because in the business world, true value is derived from the well-being of your people. And that's a trend that will always stay in style.