Recently, a Texas investigative committee released their preliminary report on the Uvalde, Texas school shooting that left 21 dead in May.
There is always a risk when looking at an issue from the outside, and since Rave Mobile Safety solutions were not in place at Robb Elementary School, I cannot speak directly about the incident or what the data from that dreadful day bears. I can, however, tell you that many of the findings issued by the Texas House of Representatives resonate with me based on my experience working on technologies to prevent and mitigate the impact of these types of events for the last 17 years.
There is no one single solution to all the issues encountered in Uvalde, which is why progressive communities take a multi-pronged, ecosystem approach to safety. Likewise, schools and others cannot rely simply on one method of communicating. Multimodal messaging, communications, and collaboration should be part of a holistic end-to-end solution. Keeping people safe requires a daily, comprehensive approach. Therefore, the technologies utilized as a part of any emergency preparation plan should be evaluated based on their capabilities not only during an emergency but through everyday use. Equally important is the ability to engage and interact with all of the stakeholders including 9-1-1 and first responders.
To better prepare for incidents, school safety leaders can implement a variety of technologies to address the full lifecycle of emergencies—everything from preparedness and mitigation to response and recovery. Some key technologies include:
Anonymous/Confidential Tip Applications gather critical information via a mobile application, website, or text to help prevent emergencies before they happen. Systems like Florida's

FortifyFL

have proven to be extremely successful in surfacing issues before they pose a risk to the greater community.
Panic Button Applications that instantly notify key stakeholders via multiple modes while also integrating with the local 9-1-1 center to expedite response. Communities large and small have successfully deployed this technology, including on a statewide basis in places like

Oklahoma

,

New Mexico

,

Louisiana

, and

Delaware

.

Incident Sharing Platforms to ensure all stakeholders—including those in the school, public safety, and other responding agencies—are on the same page when it comes to executing a response. Sharing pertinent information with these entities is important when you look at the number of cross-jurisdictional agencies that respond to large-scale events, as was the case in Uvalde. Being able to share and escalate details about the incident can dramatically reduce response times and make for a better, more coordinated response seamlessly and automatically.

Smart Proximity Alerts in conjunction with 9-1-1 and local public safety to automatically notify the right stakeholders in the event of a variety of emergencies. Even more importantly, Smart Proximity Alerts can distinguish different types of emergencies and convey updates to the stakeholders that need to know, rather than everyone, which might create message fatigue. By automatically integrating with your local 9-1-1 system, this process can be done easily and is highly informative.
At Rave, we simply could not have become the trusted communication and collaboration partner for more than 8,000 customers worldwide, 10,000 K-12 schools in the U.S., and more than 75% of North America's higher education student population without asking questions and seeking out answers. Our company has been involved in thousands of Rave Panic Button activations over the years that have given us unique insight into the processes and strategies that go into school, and community, safety. In light of the recent report, we wanted to share a few best practices to help inform safety planning and technology decisions:
Prioritize pre-planning
Today's best school safety solutions provide a mechanism for the collection and sharing of school campus information, such as maps, floor plans, emergency operations plans, and key contact information. As part of the pre-planning process, be sure that the solutions you choose can integrate with 9-1-1 and other responding agencies. For example, activating a Panic Button should call 9-1-1, in addition to automatically presenting information about the caller, location, and emergency in real-time, whenever any emergency call originates from that campus—whether it comes in from a landline, wireless device, or via a panic button app. Schools should consider robust multimodal platforms with customizable rules for escalation and messaging via a smartphone app, email, desktop pop-up, or SMS text message to ensure that important messages are being received. Technologies should also integrate with a building or campus' access control systems, speakers, and other technologies via a standards-based approach like Common Alerting Protocol (CAP).
The pros and cons of familiarity
Whenever an application is not used regularly it becomes an afterthought. Everyday use of a safety app helps to put staff at ease, reduce user errors, and decipher different messages based on the severity of a situation. For example, Rave processes thousands of "events" per year for schools. From our experience, the vast majority of the uses are operational in nature (not an active shooter or imminent threat) and medical events. Be wary of systems that have been built for just one purpose like "active assailant." By training on only the most critical of emergencies, users will not have the built-in muscle memory and daily testing needed to make sure the technology and more importantly, the school safety plan, works as designed.
It is important to note that drills go hand-in-hand with everyday use. It is not enough to simply put the technology in place and hope for the best. Each use case is unique, thus the reason each scenario warrants a specialized, end-to-end drill that incorporates on-site staff, 9-1-1, public safety, responding agencies, and other key decision-makers. Seamless safety solutions should make it easy to routinely run exercises and generate report results.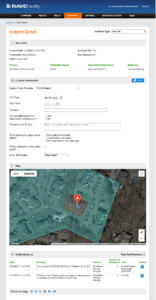 Integrating safety technology into everyday protocols will also ensure that schools are apprised of any network availability issues long before an emergency unfolds. If your Wi-Fi coverage is not consistent and complete, it may be possible to utilize solutions such as FirstNet, which is available to all teachers, and typically features a significantly discounted data plan that prioritizes traffic.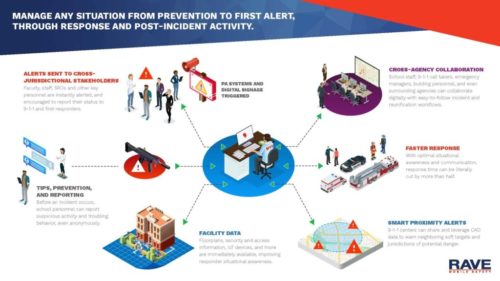 Familiarity can sometimes lead to apathy as was the case in Uvalde. In the months leading up to the school shooting, there had been 50 human trafficker bailouts near the school. Bailouts occur when human smugglers crash their cars so that occupants can flee in different directions from authorities. When these bailout incidents occurred, schools were placed on lockdown, thus creating a "diminished sense of vigilance." According to the Uvalde report, "In response to the May 24, 2022, lockdown alert at Robb Elementary, the initial reaction of many administrators, teachers, and law enforcement responders was that it likely was a less-dangerous bailout." 
It is important to select technology that can differentiate between emergency types and provide appropriate notifications to specific individuals based on the incident and the location to help allay this kind of user fatigue. For example, a bailout would not necessarily need to be broadcast school-wide, but instead just to select personnel at the specific facility. A medical emergency might only notify the school nurse, the front office, and select trained personnel.  
Do all you can today®
Oftentimes, the first indications of something amiss can occur beyond school grounds, triggering 9-1-1 calls that may seem unrelated. As we saw in Uvalde, the perpetrator went through a number of steps during his killing spree.  
To help defend against unwanted intruders, schools and public safety organizations must continue to collaborate and share critical incident information in real-time. Real-time incident sharing allows for 9-1-1 to automatically deliver proximity alerts, gaining much-needed time to secure the premises and put safety protocols into motion. This response can be based on rules established by the school and local public safety officials in advance. In the midst of chaos, notifications and workflows can be automatically triggered in real-time—saving precious moments and reducing the operational steps required during emergencies.  
As heartbreaking as the Uvalde school shooting was and as concerning as many of the investigative findings are, there are important lessons to be learned from the small border town. Safety-focused practitioners throughout the country have the chance, right now, to change future outcomes in their schools and other settings—but only if they prioritize proactive, holistic safety practices.