Recently, a Texas investigative committee released their preliminary report on the Uvalde, Texas school shooting that left 21 dead in May.
There is always a risk when looking at an issue from the outside, and since Rave Mobile Safety solutions were not in place at Robb Elementary School, I cannot speak directly about the incident or what the data from that dreadful day bears. I can, however, tell you that many of the findings issued by the Texas House of Representatives resonate with me based on my experience working on technologies to prevent and mitigate the impact of these types of events for the last 17 years.
There is no one single solution to all the issues encountered in Uvalde, which is why progressive communities take a multi-pronged, ecosystem approach to safety. Likewise, schools and others cannot rely simply on one method of communicating. Multimodal messaging, communications, and collaboration should be part of a holistic end-to-end solution. Keeping people safe requires a daily, comprehensive approach. Therefore, the technologies utilized as a part of any emergency preparation plan should be evaluated based on their capabilities not only during an emergency but through everyday use. Equally important is the ability to engage and interact with all of the stakeholders including 9-1-1 and first responders.
To better prepare for incidents, school safety leaders can implement a variety of technologies to address the full lifecycle of emergencies—everything from preparedness and mitigation to response and recovery. Some key technologies include:
Anonymous/Confidential Tip Applications gather critical information via a mobile application, website, or text to help prevent emergencies before they happen. Systems like Florida's

FortifyFL

have proven to be extremely successful in surfacing issues before they pose a risk to the greater community.
Panic Button Applications that instantly notify key stakeholders via multiple modes while also integrating with the local 9-1-1 center to expedite response. Communities large and small have successfully deployed this technology, including on a statewide basis in places like

Oklahoma

,

New Mexico

,

Louisiana

, and

Delaware

.

Incident Sharing Platforms to ensure all stakeholders—including those in the school, public safety, and other responding agencies—are on the same page when it comes to executing a response. Sharing pertinent information with these entities is important when you look at the number of cross-jurisdictional agencies that respond to large-scale events, as was the case in Uvalde. Being able to share and escalate details about the incident can dramatically reduce response times and make for a better, more coordinated response seamlessly and automatically.

Smart Proximity Alerts in conjunction with 9-1-1 and local public safety to automatically notify the right stakeholders in the event of a variety of emergencies. Even more importantly, Smart Proximity Alerts can distinguish different types of emergencies and convey updates to the stakeholders that need to know, rather than everyone, which might create message fatigue. By automatically integrating with your local 9-1-1 system, this process can be done easily and is highly informative.
At Rave, we simply could not have become the trusted communication and collaboration partner for more than 8,000 customers worldwide, 10,000 K-12 schools in the U.S., and more than 75% of North America's higher education student population without asking questions and seeking out answers. Our company has been involved in thousands of Rave Panic Button activations over the years that have given us unique insight into the processes and strategies that go into school, and community, safety. In light of the recent report, we wanted to share a few best practices to help inform safety planning and technology decisions:
Prioritize pre-planning
Today's best school safety solutions provide a mechanism for the collection and sharing of school campus information, such as maps, floor plans, emergency operations plans, and key contact information. As part of the pre-planning process, be sure that the solutions you choose can integrate with 9-1-1 and other responding agencies. For example, activating a Panic Button should call 9-1-1, in addition to automatically presenting information about the caller, location, and emergency in real-time, whenever any emergency call originates from that campus—whether it comes in from a landline, wireless device, or via a panic button app. Schools should consider robust multimodal platforms with customizable rules for escalation and messaging via a smartphone app, email, desktop pop-up, or SMS text message to ensure that important messages are being received. Technologies should also integrate with a building or campus' access control systems, speakers, and other technologies via a standards-based approach like Common Alerting Protocol (CAP).
The pros and cons of familiarity
Whenever an application is not used regularly it becomes an afterthought. Everyday use of a safety app helps to put staff at ease, reduce user errors, and decipher different messages based on the severity of a situation. For example, Rave processes thousands of "events" per year for schools. From our experience, the vast majority of the uses are operational in nature (not an active shooter or imminent threat) and medical events. Be wary of systems that have been built for just one purpose like "active assailant." By training on only the most critical of emergencies, users will not have the built-in muscle memory and daily testing needed to make sure the technology and more importantly, the school safety plan, works as designed.
It is important to note that drills go hand-in-hand with everyday use. It is not enough to simply put the technology in place and hope for the best. Each use case is unique, thus the reason each scenario warrants a specialized, end-to-end drill that incorporates on-site staff, 9-1-1, public safety, responding agencies, and other key decision-makers. Seamless safety solutions should make it easy to routinely run exercises and generate report results.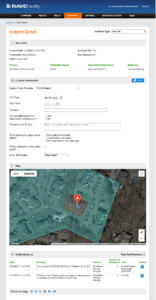 Integrating safety technology into everyday protocols will also ensure that schools are apprised of any network availability issues long before an emergency unfolds. If your Wi-Fi coverage is not consistent and complete, it may be possible to utilize solutions such as FirstNet, which is available to all teachers, and typically features a significantly discounted data plan that prioritizes traffic.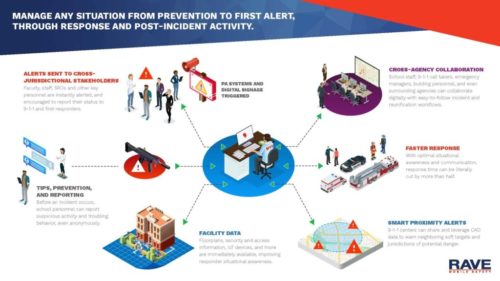 La familiarité peut parfois conduire à l'apathie, comme ce fut le cas à Uvalde. Dans les mois qui ont précédé la fusillade, il y a eu 50 renflouements de trafiquants d'êtres humains près de l'école. Les renflouements se produisent lorsque les trafiquants d'êtres humains écrasent leur voiture afin que les occupants puissent fuir les autorités dans des directions différentes. Lorsque ces incidents de sauvetage se sont produits, les écoles ont été placées en quarantaine, ce qui a créé une « baisse du sens de la vigilance ». Selon le rapport d'Uvalde, « en réponse à l'alerte de verrouillage du 24 mai 2022 à l'école primaire Robb, la première réaction de nombreux administrateurs, enseignants et forces de l'ordre a été de penser qu'il s'agissait probablement d'un renflouement moins dangereux ».
Il est important de choisir une technologie capable de différencier les types d'urgence et de fournir des notifications appropriées à des personnes spécifiques en fonction de l'incident et du lieu, afin d'atténuer ce type de lassitude des utilisateurs. Par exemple, une opération de sauvetage n'aurait pas nécessairement besoin d'être diffusée dans toute l'école, mais seulement à certains membres du personnel de l'établissement concerné. En cas d'urgence médicale, seuls l'infirmière de l'école, le secrétariat et certains membres du personnel qualifié peuvent être prévenus.
Faites tout ce que vous pouvez aujourd'hui®
Souvent, les premières indications de quelque chose d'anormal peuvent se produire en dehors de l'enceinte de l'école, déclenchant des appels au 9-1-1 qui peuvent sembler sans rapport. Comme nous l'avons vu à Uvalde, l'auteur de l'attentat a franchi un certain nombre d'étapes au cours de sa folie meurtrière.
Pour se défendre contre les intrus indésirables, les écoles et les organismes de sécurité publique doivent continuer à collaborer et à partager en temps réel les informations relatives aux incidents critiques. Le partage des incidents en temps réel permet au 9-1-1 de diffuser automatiquement des alertes de proximité, ce qui permet de gagner le temps nécessaire pour sécuriser les lieux et mettre en place des protocoles de sécurité. Cette réponse peut être basée sur des règles établies à l'avance par l'école et les responsables locaux de la sécurité publique. Au milieu du chaos, les notifications et les flux de travail peuvent être déclenchés automatiquement en temps réel, ce qui permet de gagner des moments précieux et de réduire les étapes opérationnelles nécessaires en cas d'urgence.
Aussi déchirante que soit la fusillade de l'école d'Uvalde et aussi préoccupantes que soient les conclusions de l'enquête, il y a d'importantes leçons à tirer de cette petite ville frontalière. Les praticiens de la sécurité dans tout le pays ont la possibilité, dès maintenant, de changer les résultats futurs dans leurs écoles et autres lieux, mais seulement s'ils donnent la priorité à des pratiques de sécurité proactives et holistiques.