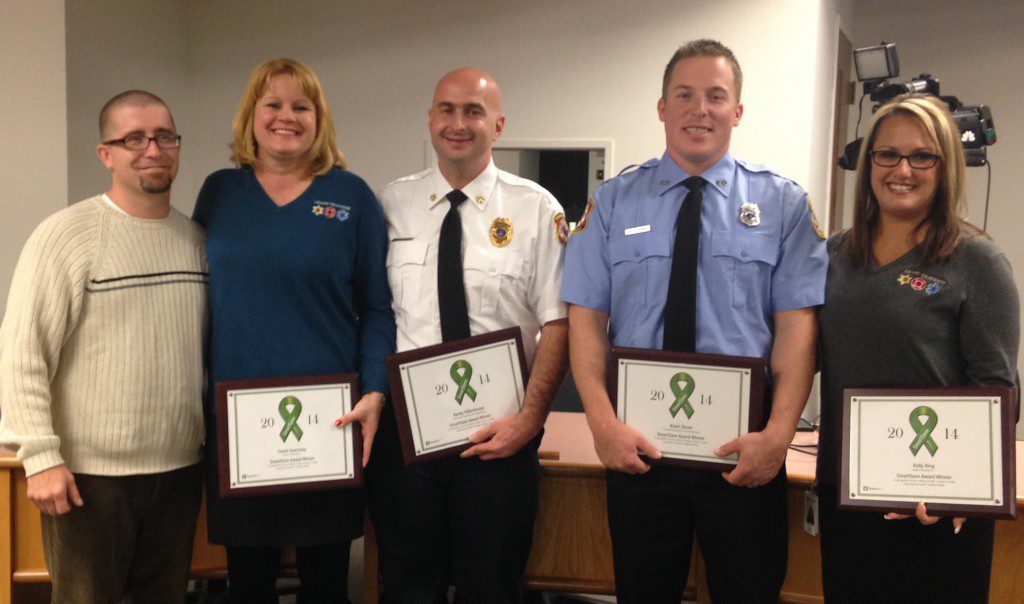 Unable to Trace the Location of an Uncommunicative Mobile Caller, Dispatchers Use Public Safety Service to Find Barely Conscious Father in Burning Home with Just Minutes to Spare
GRAND TRAVERSE COUNTY, Mich., December 11, 2014 – Just weeks ago Dan Hoffman awoke to a "face-full of flames." Looking back, the Peninsula Township father-of-two young daughters doesn't recall dialing 9-1-1 from his mobile phone. Smoke filled his home, he couldn't speak, and Grand Traverse Central Dispatch only heard coughing and a struggle. They didn't know what the emergency entailed or where Hoffman was: a trace of the mobile call placed his location in Grand Traverse Bay.
As the fire grew in intensity, Hoffman lay barely conscious on his living room floor, which is where emergency responders would find him. According to Traverse City Fire Chief, Jim Tuller, Hoffman had only a few minutes left before the blaze would have claimed his life, and his rescue was made possible by a relatively new public safety service that is now available to millions of Americans.
The incident highlights a serious concern; an aging 9-1-1 infrastructure hasn't kept up with consumer use of technology or harnessed the power of the Internet. A particular problem is the mobile phone. Unlike how it's portrayed in crime dramas, 9-1-1 can only trace the location of a mobile call to about the length of a football field, and even then, only 60 percent of the time. If a caller can't speak – due to such things as smoke inhalation or a medical emergency – responders may not find a victim in time.
This is what happened to Hoffman and he's not alone. More than 70 percent of 9-1-1 calls now come from mobile phones; 40 percent of households rely solely on the devices.
Yet, as more than 1,000 municipalities have done, Grand Traverse County made Smart911 available to residents and Hoffman's wife had created a Safety Profile for her family, which gave dispatchers his home address. Emergency responders were dispatched, pulled Hoffman from the fire, immediately administered medical care, and saved his life with only minutes to spare.
"This is about time. It's about time when that fires starts. It's about time when it's discovered. It's about time when units are dispatched," said Fire Chief Tuller during an event in which Hoffman and his family met his rescuers (see video). "Travel time to get there, setup time - all of that is against us whenever emergencies of any kind occur. Smart911 took a shortcut and saved a person's life."
During the holidays emergency responders need all the help they can get. It's the busiest time of the year for 9-1-1 calls: house fires are at a high, as is medical phenomena like "Holiday Heart," the peak for heart attack fatalities. A Smart911 Safety Profile contains household information people want 9-1-1 to have during an emergency. When a call is made, this automatically displays to a dispatcher, who can send response teams to the right location with the right information, saving invaluable time. Fire crews can arrive knowing how many people live in a home and location of bedrooms. EMS can know about allergies or specific medical conditions for fast, precise treatment. Police can have the photo of a missing child in seconds rather than hours and be aware of any "dangerous acquaintances."
For the Hoffman's, the free Smart911 Safety Profile was literally the gift of a lifetime, one that has made the holidays all the more special.
"Smart911 cut 11 minutes off of the response time. It saved me - it saved my life," noted Dan Hoffman. "Every day I'm here is a blessing. Every day, I get to hug my girls. I'm here, I've gotten my second chance. Thank you Smart911, because it saved me."
you may also like
Springfield College Scores with Rave Guardian App
RAVE
May 06, 2015
Guardian App By Rave Mobile Safety Now Bringing Added Protection to nearly 6,000 Students, Faculty and Staff at the Birthplace of Basketball
read more

+