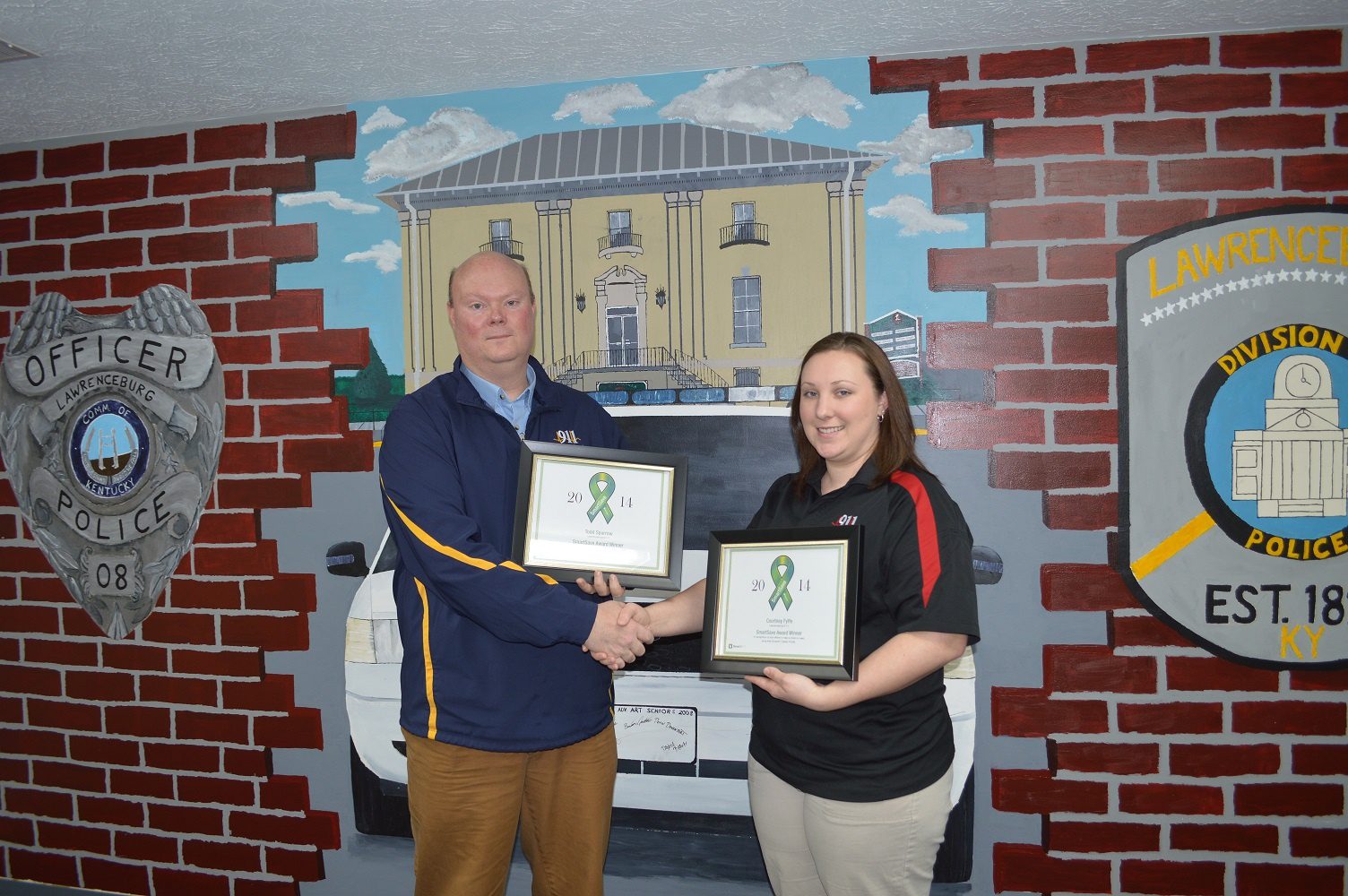 Telecommunicators Honored with SmartSave Award by Smart911 in Recognition of Their Efforts to Effectively Dispatch Police to Correct Location of a Stranded Motorist
(l-r, Todd Sparrow and Courtney Fyffe of Lawrencburg, KY 911)
Click here for audio of the call
On the morning of March 3, Teresa Cooper found herself stranded on the Bluegrass Parkway in Lawrenceburg, KY when her windshield wipers stopped working during a heavy snow storm. She called 9-1-1 for help from her cell phone but the signal was weak and she couldn't communicate with the dispatcher to tell them who she was, where she was, or what was wrong. A year earlier, Teresa had signed up for Smart911, creating a Safety Profile for her family in case they needed to dial 9-1-1. On this day, it was the Cooper family's Safety Profile that came to Teresa's aid.
At 8:23am, Todd Sparrow, Lawrenceburg 911 Coordinator, was the one to answer Teresa's call. Hearing nothing but dead air on the other end of the line, he repeatedly asked if someone was there, and if they could hear him. Teresa was able to hear him, and after more than 30 seconds, small bits of Teresa's voice finally came through, masked by the poor signal. Sparrow encouraged her to stay on the line so he could determine her location as he reviewed her Smart911 Safety Profile which displayed when he answered the call. "I see your address, are you in this location?" he asked to no response. "Is this Teresa Cooper?" he asked. "I'm showing your location on the Bluegrass parkway around the 60 mile marker. I'm sending someone to that location". At this point Teresa's call is disconnected.
Not knowing the nature of the emergency, Telecommunicator Courtney Fyffe began "pinging" the location of the caller's phone through Smart911. Sparrow then dispatched responders to her location, providing the vehicle information that was listed in the Smart911 profile. He also initiated a text session with Teresa through Smart911 and she responded by text that she was stranded. The storm made roads difficult to travel, and Fire Chief Mike Barnes was the first that was able to arrive on scene to assist Teresa in getting back on the road safely.
"I never really thought I would end up in a situation where I would need to call 9-1-1" stated Cooper. "And then to not be able to tell them anything because of my phone signal, I felt helpless. I am so glad we signed up for Smart911, it was the reason I got help so quickly. I would encourage everyone to sign up. You never know when this could be you."
"It's really amazing what we were able to do in a very short time with Smart911" said Sparrow. "We had the caller's name and vehicle details even when she couldn't tell us, and we were able to confirm her location and text with her through Smart911. If she had not had a Safety Profile, this process would have taken much longer and it would have proven difficult to send responders to her."
Fyffe and Sparrow are now being honored for their efforts with a SmartSave Award from Smart911. The award recognizes and rewards call takers, dispatchers and emergency responders who are able to effectively use information in a Smart911 Safety Profile to positively affect the outcome of an emergency.
"Most of our calls come from cell phones, and it can be very difficult and take a lot of time to get the information we need to send help." Said Fyffe, a telecommunicator of 6 years. "Having all those details right in front of us so we can act quickly to send help to this woman meant that we could do our jobs easier, faster and more effectively."
Smart911 allows citizens to create a Safety Profile for their household that includes any information they want 9-1-1 and response teams to have in the event of an emergency. When a citizen makes an emergency call, their Safety Profile is automatically displayed to the 9-1-1 call taker, allowing them to send the right response teams to the right location with the right information. Responders can be aware of many details they would not have known previously with Smart911. For instance, fire crews can arrive at a house fire knowing how many people live in the home and the location of bedrooms, EMS can be advised of allergies or specific medical conditions, and police can have the photo of a missing child in seconds rather than hours.
Implemented in Lawrenceburg in 2011, Smart911 is available in communities across Kentucky including Frankfort/Franklin County, Lexington/Fayette County, Jessamine County and Owensboro/Daviess County. Introduced nearly three years ago by Rave Mobile Safety, the most trusted software partner for campus and public safety, Smart911 has been adopted in 33 states and more than 450 municipalities. It has been credited with positively impacting emergency situations across the U.S., including a missing child case in Arkansas, victims of heart attack and Epilepsy in Nashville, a domestic disturbance in DuPage County (Ill.) and more.
Residents are encouraged to create their Safety Profile with Smart911 today to have their information immediately available to 9-1-1. Smart911 data is private and secure, is only used for emergency responses and available to the 9-1-1 system in the event of an emergency call.