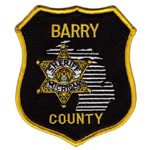 Potentially Life-Saving Information Can Be Immediately Available to First Responders in Emergency Situations with the Launch of Barry County's New Smart911 Program.
Public safety officials announced the start of the program Tuesday, demonstrating how the Smart911 system works at the central dispatch center.
"I'm very excited about it," said Barry County Central Dispatch Director Phyllis Fuller. "My argument for the program is that if it saves even one person's life over 10 years, it's worth it."
The program cost $18,500 to start and will require an additional $13,500 annually during the five-year contract. Fuller said the money comes from the state 911 fund and the 19-cent surcharge on phone bills. She admitted it's expensive, but thinks the positive possibilities outweigh the costs.
Lani Forbes, Barry County 911 board chairperson, said she agrees.
"For citizens, this means one less thing they have to think about in a stressful emergency situation," said Forbes. "The information is already right there. If it helps find one missing child or one missing person then it's worth it."
Smart911 offers residents, for free, a chance to create a safety profile of personal information that may be useful in emergency situations — information such as personal allergies, health concerns, medications, blood types and contact information for family members or friends.
"By bringing Smart911 service to Barry County, we are giving local residents and visitors the ability to provide potentially life-saving information to first responders before an emergency, which is especially important in situations when the caller is panicked or unable to speak," said Hastings City Police Chief Jeff Pratt.
The program is strictly voluntary, and residents can provide as much or as little information as they choose by logging on to www.smart911.com and following a step-by-step process.
Fuller said she hopes many county residents will take advantage of what she believes can be a life-saving system.
Fuller demonstrated how the profile information is immediately triggered when an emergency call is made from one of the phone numbers included on the profile information. Dispatchers immediately can tell the origin of the call and see the profile information available for all the people on the profile list.
Fuller said it's simple for residents to create their personal information on the system and she assured residents the system is safe and information cannot be accessed. The only time information is available is when it is initiated by a call from one of the phone numbers listed on the profile. The information is then available to dispatchers for one hour after the initial call and after that, dispatchers are unable to search for it or access it, Fuller said.
"We're looking for critical pieces of information that will be helpful in emergency situations," said Fuller.
If provided, dispatchers immediately know about chronic illnesses, medications being taken, contact phone numbers for other family members, layouts of homes, and locations of bedrooms where children might be sleeping. They may be able to warn first responders about a particularly aggressive pet or quickly be directed to electrical shutoffs in a home.
Fuller offered some examples of how the profile information might be beneficial.
"Maybe a mother is calling about her missing 1-year-old child. She may be frantic and it may be hard to get information we need from her. If she has set up information with Smart911, it's all there when the dispatcher answers the call, as long as she uses a phone listed on the profile. We can even have an immediate picture of the child available for all first responders."
Another example might be in the case of a medical emergency. First responders can instantly know if a patient has severe latex allergies or bee sting allergies. They might be notified of a patient has diabetes or heart problems.
"The more information made available to 911 call takers, the better," said Thornapple Township Fire Chief Dave Middleton, who serves as chair of the technology committee for the 911 board. "Knowing how many people live in the home, where the bedrooms are located and even pets in the home can ensure we know who we need to help and where they might be."
"Any time you have to call 911, you're usually in kind of a panic mode," said Pratt. "Having this information helps us in emergency situations."
Forbes said panicked callers sometimes can't remember their own address or important information. They forget to tell dispatchers about known medical issues, such as allergies or medications.
"It's critical we have this kind of information," said Forbes. "For citizens, it means one less thing they have to think about in a stressful emergency situation. If it's available to the dispatchers, all the caller has to do is confirm the information."
Smart911 is a national program now available in 33 states and more than 450 municipalities across the country. In Michigan, Smart911 also is available in Grand Traverse, Van Buren, Eaton, Ionia, Ottawa, Crawford and Kalkaska counties.
The profile travels with the person, as well. So even a Barry County resident might have his or her profile pop up for an emergency while traveling elsewhere in the country.
Fuller said people who work or spend a lot of time in Barry County but don't live in the county are also encouraged to build their profiles and have information available in case of an emergency here.
To make sure the system is up to date, Smart911 will initiate responses from participants to update or verify information on the site.
Fuller said she will receive an updated report from Smart911 showing how many people have built their profiles.
"My goal would be to have 100 percent of residents take part in this, but I know that's unrealistic," said Fuller.
She said she hopes for at least 10 percent of Barry County residents in the first year — that's nearly 6,000 residents. She's hoping to get the word out by talking to local civic organizations, groups, and communities. She encourages such groups to contact her to schedule a presentation.
Pratt said his city officers will be encouraging people in the community to sign up for the program. "I think it will be helpful," he said.
Forbes said she's thrilled with the program. "I'm so excited. I think it's going to be a very good thing that will help save lives. And that's what we all want."
By: Julie Makarewicz
Posted: June 12, 2014