Across the United States, establishing a standardized protocol for active assailant and other emergency situations is becoming a powerful safety strategy in K12 settings. The "I Love You Guys" school safety protocol is one being used in Colorado, and can integrate with other school safety technology such as a panic button app.
Response training is becoming increasingly common in a variety of settings, including higher education institutions, private organizations, and healthcare facilities. These programs include Run, Fight, Hide or ALICE, which offer active assailant protocol. However, finding a response strategy which is a good fit for K12 can prove more difficult, as it must consider a variety of emergency situations, including severe weather, and consider the best way to address these risks for teachers and students.
In Colorado, schools are largely implementing "I Love You Guys" protocol, as it provides a useful framework for teachers and staff to respond to emergency situations. The "I Love You Guys" foundation was created to help schools, districts, departments, agencies, and organizations to jumpstart organization-wide safety efforts. The foundation provides program materials and training, providing critical strategies for those looking to create a comprehensive safety plan.
What Is "I Love You Guys" Protocol?
Much like other response training protocol, "I Love You Guys" relies on several key emergency plan features aimed at keeping students and teachers particularly safe. There are five essential practices which are activated during an emergency, including lockout, lockdown, evacuate, shelter, and hold. The protocol works well for K12 school safety because it provides a uniform classroom response for any incident. The school district administration, teachers, students, and staff are prepared and trained for severe weather emergencies, fires, accidents, intruders, and other threats as they arise.
For a LOCKOUT situation, students and teachers are instructed to get indoors and shut down building entry points. In addition to bring students inside, teachers should increase situational awareness, conduct business as usual, and take attendance. During a LOCKDOWN situation, lights are turned off, interior doors are locked, silence is maintained, and both students and teachers are to remain out of sight.
There are also procedures to EVACUATE to an announced location, ordering teachers and students to leave stuff behind and exit the building to a previously determined location. The protocol institutes several practices oriented toward severe weather as well, such as SHELTER, which instructs teachers to evacuate to a shelter area, seal the room, drop cover and hold, or get to higher ground. HOLD situations simply require teachers to close and lock the classroom door until given the all clear. Together, these practices can be used to address a variety of emergency situations.
Technology can work well to help teachers initiate these practices during an emergency. A panic button app would be activated during a variety of situations, sending first responders critical information, such as the nature and location of the emergency on campus. By using customizable response instructions and staff assist features, the app can help teachers, administrators, and staff to initiate "I Love You Guys" procedures.
How Does A Panic Button App Integrate With "I Love You Guys" Protocol?
A panic button app allows teachers and administrators to immediately communicate an emergency situation to their colleagues, 9-1-1, first responders, and other emergency personnel. When the app is activated, it dials 9-1-1 while simultaneously sending notifications to the rest of the teachers, and staff as the situation develops. One of the key features of the app is the ability to deliver critical data to dispatchers and first responders, including the location and nature of the emergency. The app user does so by activating five emergency call button types.
Some panic button systems have five pre-set features - one for fire, medical emergency, active shooter, one to request police, and one for all other emergencies requiring 9-1-1. Organizations can customize the notifications that go out when each button is pressed.
The combination of standardized emergency types with customizable notifications ensures a consistent experience for public safety across many organizations in their community. In a given community or jurisdiction, libraries, schools, and government agencies may all take advantage of the panic app functionality.
Each organization can customize the notifications based on the "I Love You Guys" protocol or another. For example, if a teacher activates the button to indicate an active assailant or intruder, a message will be sent to the appropriate staff to indicate the appropriate action to take, whether a teacher is initiating an evacuate, lockdown, or lockout order. In the instance of severe weather, the button can be activated to inform the community of the hazard and set a shelter practice into place. The appropriate response instruction can be attached to each button, or the message about the protocol can be included as a follow-up instruction through the app.
For emergency types where the action will always be the same – if a fire-related emergency occurs, evacuation is always necessary, the "I Love You Guys" instructions can be added to the activation message.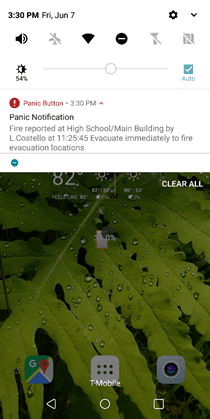 If the action may vary given the emergency, administrators and teachers can follow up the button press with a follow-up message from a person of authority with the appropriate "I Love You Guys" protocol to initiate. The organization can create pre-templated messages for each of the four "I Love You Guys" key practices - LOCKDOWN, LOCKOUT, EVACUATE, or SHELTER. These templates can even be further customized at send time - offering additional critical information, such as the location to evacuate to during the emergency.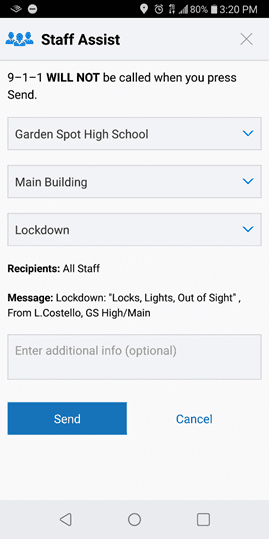 A panic button app can also inform teachers of when a situation is "all clear" with internal communication capability. In addition to contacting local first responders, the app is able to inform teachers and staff of the situation as it develops, including when safety is restored. By pairing the panic button app with "I Love You Guys" protocol, security managers can implement an inclusive, whole-community school safety plan.
you may also like
April is 9-1-1 Education Month: What to Share with Your Community
Mary Kate McGrath
April 08, 2020
By the time a child can reach a phone, they are taught to dial 9-1-1 in case of an emergency. There is always more to learn about the national emergency number. In 2008, the...
read more

+