A glimpse into the life of those working in emergency response is the subject of many popular television shows today. These workers must help protect residents under extreme, high-intensity circumstances, and their jobs have long been a fascinating subject for television creators. From 9-1-1 dispatchers to fire fighters to police officers to EMS workers, first responders help residents during dire situations.
In these professions, workers are on call at odd hours, face considerable challenges, and become a cornerstone of managing a safe community. Most of the time, we don't realize just how difficult an emergency response job can be, and just how much effort goes into these roles. Luckily, there are many television series that have been created to portray the profession, and these give the general public a better understanding of those who serve their neighborhood.    
There are many television shows that have represented the experience of first response teams in one way or another. There will never be a shortage of good procedural shows, but in recent years series focused on first responders who don't work in law enforcement have become quite popular. In both the comedy and drama genres, there have been plenty of popular series created to depict the lives of EMS teams and firefighters. With all they do for us, it's always interesting to see the behind-the-scenes of both real and fictional accounts of the lives of first responders. 
Here are a list of the seven best shows about life as a first responder:
7. Ambulance
This one-hour documentary series on BBC is focused on emergency medical workers and dispatchers as they respond to emergencies. It's not yet ordered to series, but the show is expected to be adapted in the United States on CBS. Though only on the air for one season, the docu-series captured the brave responders who manage high-pressure emergency incidents at a high volume. Every episode looked at a different region's emergency response teams, and the unique challenges the organizations face on a daily basis. The show focuses on-call center personnel and field crews, offering a comprehensive look of the job. 
6. Law & Order
Even though Law & Order is a procedural drama, there is perhaps no show more popular and long-running that demonstrates the responsibilities of law enforcement. The show first aired in 1990, and the second-longest running scripted television show in history, it is still airing new episodes today. Law & Order's status as a classic television series proves that many people are curious about the role and responsibility of law enforcement officers. Even though the show often focuses on the legal side of crime, it often strays into 
In the years since the show first premiered, there have been numerous spin-off series focusing on specific detective units and cities. These show just how difficult these jobs can be, and the different situations and challenges the various law enforcement units face. The stories in Law & Order are clearly dramatizations, but the show is still significant as one of the first majorly successful series to bring the role of a first responders to the screen.
5. Code Black 
Code Black is a CBS drama based on the documentary by the same title. The show features a fictional hospital called Angels Memorial, which is struggling with severe under staffing. It's a show that is still relevant, as nurse staffing continues to be a struggle at medical facilities across the United States.  Code Black follows residents as they respond to ambulance calls and emergencies in the hospital. Starring Marcia Gay Harden and Luis Guzman, Code Black opens new doors to viewers, showing the inner workings of hospitals and ambulances.
4. Cops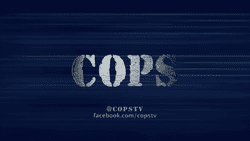 Much like Law & Order, this series is one of the longest running shows in television history. The show has been on the air for over 30 seasons, giving viewers a look at what life is like for real life officers as they answer calls around their towns and counties. In this documentary series, video crews tag along in cop cars as they show the firsthand experience of being a in the police force. The series can be difficult to watch, revealing some of the more difficult parts of a job in law enforcement. The show has been filmed in over 140 cities across the United States as well as abroad, revealing how every law enforcement team faces unique safety and security challenges. 
3. Brooklyn Nine-Nine 
Of course, not every 9-1-1 show is a serious drama. Brooklyn Nine-Nine is a fictional comedy set the 99th precinct of the New York Police Department. This procedural comedy follows the crime fighting team as they maneuver Brooklyn streets and bring justice to victims. Starring Andy Samberg, Melisa Fomero, Stephanie Beatriz, and Andre Braugher, the Brooklyn Nine-Nine team might get into funny antics, but at the end of the day these police officers and detectives are great at their job.  
2. 9-1-1 on Fox
This series from Ryan Murphy (Glee, American Horror Story) features emergency dispatchers, police officers, and fire fighters. 9-1-1 highlights all the steps that go into receiving and responding to a 911 call, and the first season was received positively. While there is no shortage of police procedurals on television, 9-1-1 is a unique fictional drama that shows every step of the response process as first responders asses an emergency situation and save people. The show is one of a kind as there has never before been anything like this on air, and 9-1-1 will air it's second season on September 23rd on FOX. 
1. Live PD on A&E
Live PD, hosted by ABC's Chief of Legal Affairs, Dan Abrams, follows eight counties per episode as they capture criminals. Live PD is a documentary show not only follows police officers as they answer dispatch calls, but relies on the reasoning behind an officer's action or proposed action to make the series interesting for viewers. Occasionally, guest hosts make and appearance with Dan Abrams as they review the steps an officer takes. For the most part, the show trails officers as they make arrests, conduct traffic stops, and respond to medical emergencies. 
No matter what the show, the trend is easy to find: dispatch centers are where most of the action happens. Making sure the proper first responders are on the scene and fast is a tough job. Communicating information from the dispatch call to the first responders on the front lines can be a matter of life and death. Preparing first responders for what they are about to encounter is crucial, and it's possible to leverage technology to assist with communication. 
Having NG911 technology to help dispatch centers could make a major difference. The Rave 911 Suite, for example, could enable a dispatcher to text a person if the person feared talking on the phone would put their life at more risk. Nowadays, texting is a more natural form of communication for a lot of people, especially among millennials. Being able to communicate on a platform that people are more comfortable with allows dispatch centers to gather more information to rely to officers responding to a scene. 
If there is anything to be learned from these shows, it's to appreciate our dispatchers and first responders who put their lives on the line when we call 9-1-1. It's important to consider the unique challenges dispatchers, law enforcement, emergency medical services, and firefighters face in their communities, and these television shows have definitely helped expose people to how difficult this work can be.