FRAMINGHAM, Massachusetts, November 29, 2018—Rave Mobile Safety (Rave), a trusted partner for safety software protecting millions of individuals, highlights another year of industry accolades for its Rave Panic Button™ solution. American Security Today, Southern Legislative Conference and FierceMarkets recognized Rave Mobile Safety's mobile incident response app. The Rave Panic Button app connects all of the key stakeholders in school safety from schools to 9-1-1 and first responders while enabling users to call 9-1-1 and send an alert to key on-site personnel with the touch of one button.
Rave Panic Button shortens response times, reduces confusion, and improves safety for all those in the immediate area by providing immediate information during the first seconds of an event. Rave Panic Button is the most widely deployed panic button app and is used in K-12 schools across the country including on a statewide basis across the country.
"This year Rave Panic Button has continued to provide peace of mind for thousands of students, teachers, and families across the country by allowing schools and organizations to quickly communicate in any emergency whether it's an active shooter or medical incident," said Todd Miller, COO of Rave Mobile Safety.
"We are honored to be recognized for our continued efforts to promote safety and better communication in emergency situations."
Notable milestones this year for the Rave Panic Button app include the following: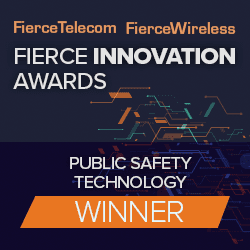 2018 Fierce Innovation Awards – Telecom Edition
Rave Panic Button received the 2018 Public Safety Technology award. Fierce Innovation Awards:  Telecom Edition, a peer and analyst reviewed awards program from the publisher of FierceWireless and FierceTelecom, highlights the advances in service and equipment developments unveiled during the past 12 months.

2018 State Transformation in Action Recognition (STAR) Award
Rave Mobile Safety was selected for a 2018 STAR Award by the Southern Legislative Conference for its K-12 Panic Button System in 1,053 Arkansas schools. Through the STAR award, the Southern Office recognizes impactful, creative, effective and transferable state government solutions. Innovative program submissions are accepted from a wide array of state agencies, departments and institutions operating within the executive, legislative and judicial governmental branches.
American Security Today's 2018 'ASTORS' Homeland Security Platinum Award
Rave Panic Button was also awarded the American Security Today's 2018 'ASTORS' Homeland Security Platinum Award for Best Risk, Crisis Management System. The Annual 'ASTORS' Awards are the preeminent U.S. Homeland Security Awards Program and highlight cutting-edge and forward-thinking security solutions coming onto the market.
Learn more about the Rave Panic Button App here.
About Rave Mobile Safety
Rave Mobile Safety is the leading provider of critical communication and collaboration technology used to save lives, manage crisis incidents and increase resiliency. From major disasters and crisis events to everyday emergencies and operational incidents, the Rave platform enables critical data sharing, mass notification and emergency response coordination. Over 8,000 first responder, emergency management, 9-1-1, and federal, state and local agencies—as well as corporations, healthcare organizations, universities and schools—all rely on Rave to prepare better, respond faster, recover quicker and mitigate anticipated critical incidents. Founded in 2004, Rave's award-winning software solutions are backed by leading growth equity firm TCV. Let Rave enable you to do all you can todayTM to keep everyone safe. For more information, visit https://www.ravemobilesafety.com, read our company blog, and follow us on LinkedIn, Twitter, and Facebook.
Contacts
Jillian Saftel
rave@v2comms.com