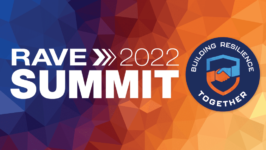 Fill out the Form to View the Full State & Local Summit Showcase
Relive your Rave Summit experience or witness first hand the most critical sessions for those in roles like yours! From supporting mental health in your community to fostering the public's trust in emergency notification, watch highlights and hear from industry leaders on how to keep your community safe. 
Sessions Include:
Proximity Warnings and Cross Jurisdictional Coordination with Rave Aware
Understanding and Respondce During Mental Health Crises
Mental Health Best Practices for 9-1-1
School Safety Actions We Can Take Today, Part 1
School Safety Actions We Can Take Today, Part 2
Building Resilience Together with the Rave Platform
Operational Scaling During Resource Scarcities
AppArmor for Government
Large Deployment Lessons Learned that Apply Everywhere
Rave Summit brings together critical communications and safety professionals across all industries to share innovative strategies and important lessons from keeping their communities, campuses and employees safe and informed during one of the most turbulent years in decades.