Customer Success Story
Leveraging Employee Emergency Notifications at Michigan State University Federal Credit Union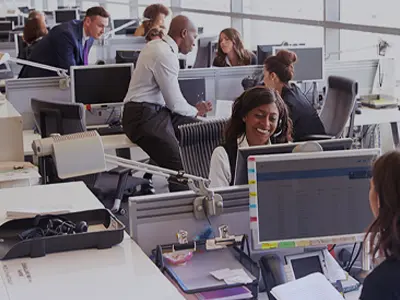 Customer Details
Michigan State University Federal Credit Union is the 3rd largest credit union in Michigan, and 49th largest in the United States in membership and asset size with over $3.7 billion in assets, hundreds of employees and over 246,000 members.
Download This Story
Get a PDF to read and share offline.
THE CHALLENGE
Olivia Ghislain, the Physical Security Program Director at MSUFCU, works diligently to help protect the credit union's different locations. She is also has previous experience working with Michigan State University's police department. It was in this role where she first became familiar with sophisticated alerting systems. Olivia recalls that "we had a very powerful alerting system in place and it was great learning experience for me to work at MSU."
Using this valuable hands-on experience, Olivia contributed to the credit union's alerting system search efforts. She notes that "we initially considered building an internal platform because we have a large and very competent IT Department. However, we quickly realized that it would be a better use of our time to deploy an already established system." The credit union researched a handful of vendors, but quickly narrowed their search to Rave Mobile Safety.
The Solution
The Rave Alert platform sends emergency alerts to all communication channels simultaneously from any computer, smartphone or tablet. Plus, Rave Alert's 2-step SnapSend broadcasts emergency notifications to thousands in just seconds, and the company's pre-set templates and audience segmentation greatly helps accelerate the entire emergency send process from start to finish. Olivia confirms that "this software is intuitive and easy to use and we have about a dozen staff members in different departments who enjoy working with it." MSUFCU has Rave Alert in place for emergencies such as weather events, power outages, fire alarms, and virtually any type of emergency situation. In action, Olivia notes that "our employees have been very open and receptive to working with Rave Alert." 
"Rave Alert is intuitive and easy to use and we have about a dozen staff members in different departments who enjoy working with it."
OLIVIA GHISLAIN
PHYSICAL SECURITY PROGRAM DIRECTOR
MICHIGAN STATE UNIVERSITY FEDERAL CREDIT UNION
The Result
From initial installation and rollout to ongoing support, Olivia describes Rave Mobile Safety's support as a positive experience. Like the hundreds of other clients of the company, MSUFCU likes the fact that Rave Alert's safety grade infrastructure — including geo-redundant data centers, multiple carriers, carrier networks and aggregators — ensures top notch emergency notification performance and delivery. She concludes that "it is a useful system and we love the sense of security that it provides."
Read More Customer Success Stories
Discover our prepackaged solutions or configure a package that's right for your community, company, K-12 schools and higher education system. Learn how you can be up and running in days, take advantage of unlimited emergency usage, and benefit from unbeatable performance and customer satisfaction.