FRAMINGHAM, Massachusetts, November 29, 2018—Rave Mobile Safety (Rave), a trusted partner for safety software protecting millions of individuals, highlights another year of enhancements and accolades to its Rave Guardian™ and Rave Alert™ solutions. Notably, the integration of the solutions now allows current and future customers access to the latest feature enhancements in a single platform.
« This year Rave Guardian and Rave Alert saw significant updates that allowed greater communication in the event of an emergency, » said Todd Miller, COO of Rave Mobile Safety.
« These latest features and offerings have helped to drive our customers' success in a time when safety and preparedness initiatives have been top of mind for colleges, healthcare organizations and businesses. To be recognized by the security and education industries has been an honor and shows our continued dedication to making emergency communication easier and more connected. »
Rave Alert, the leading emergency notification solution, is proven to help organizations, universities and hospitals deliver unlimited messages to unlimited recipients with an easy-to-use interface accessible in any emergency. Rave Alert can send geo-targeted push notifications to Rave Guardian, a personal safety app. Rave Guardian provides additional ways, such as routed chats, confidential tips, a call directory, a safety timer and a content portal, for employees or students to engage more with their organization.
Notable milestones for these leading Rave solutions include the following:
American Security Today's 2018 'ASTORS' Homeland Security Awards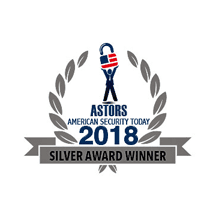 The Annual 'ASTORS' Awards, presented by American Security Today, are the preeminent U.S. Homeland Security Awards Program, and highlight cutting-edge and forward-thinking security solutions coming onto the market. Rave Guardian was awarded the American Security Today's 2018 'ASTORS' Homeland Security Silver Award for Best Mobile Technology Product, while Rave Alert won Bronze for Best Mass Notification System-Software.
2018 Secure Campus Awards
The Secure Campus Awards, presented by Campus Security & Life Safety, honor the outstanding achievements of security industry manufacturers whose products are considered particularly noteworthy in their ability to improve campus security. An independent panel of judges from the security industry selected the top entries in the 2018 categories and named them winners using criteria including features, innovation, user friendliness, interoperability, quality, design, market opportunity, and impact in the security industry, technical advances and scalability. Rave Alert was awarded the 2018 Gold Emergency Notification/Mass Notification Secure Campus Award.
Learn more about the Rave Guardian App here.
Learn more about Rave Alert here.