Rave Panic Button Tutorials
Using the App in an Emergency
Summoning emergency assistance and providing immediate notification to your colleagues of an incident is simple. From the app home screen, press and hold for 1 and a half seconds the emergency button that corresponds to the type of emergency you are calling to report. For example, if you see an armed intruder or hear gunfire, press and hold the active shooter button. However, if you witness a medical emergency or are calling to report a suspicious person, press and hold the Medical or Police buttons, respectively.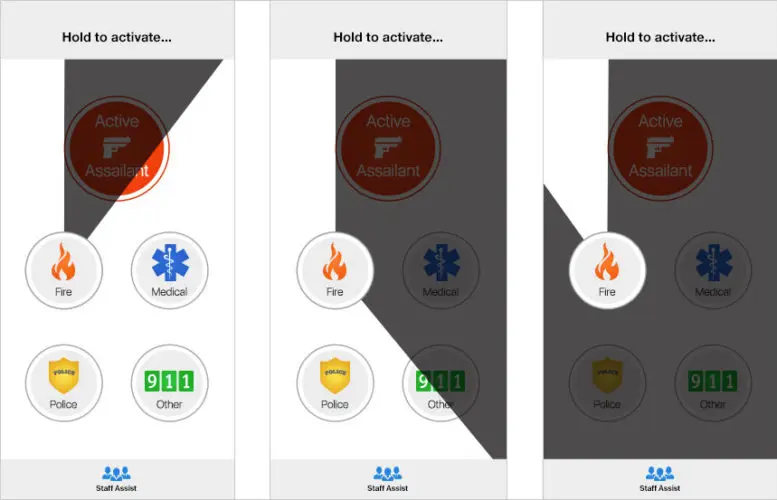 Next, confirm the call to 9-1-1 (the app will pre-populate the digits 9-1-1 for you). As your phone is dialing 9-1-1, your campus' key contacts, school resource officers/security, and any other designated administrators will receive an emergency notification that you have activated the Panic Button, along with your campus and building location.
Here are some tips for speaking with the 9-1-1 call taker:
9-1-1 call takers operate according to protocols and scripts so that they obtain all of the necessary information from callers. Because of this, it is critical to answer the call taker's questions as they are asked, rather than providing all of the information unprompted. Doing so will reduce the time it takes to get emergency personnel en route.
In general, the 9-1-1 call taker will need to know the following pieces of information:

The address of the emergency/name of the campus or facility.
The exact location of where emergency assistance is needed. Be specific about where and to whom officers and emergency personnel are to report at the site.
The phone number you are calling from.
As much detail about what is happening or has happened / the purpose for the call. Again, the 9-1-1 call taker will be asking sequential questions according to a script, so it is always better to provide the information as it is requested.
Your name and position.

If you are unable to speak, for whatever reason, try to leave your phone line open / call active for as long as possible.
For current users of the Rave Panic Button mobile app, here are some helpful articles to get you started.