Rave Panic Button Tutorials
Using Staff Assist
Staff Assist sends internal notifications through the Rave Panic Button without dialing 9-1-1, allowing you get help from onsite resources for situations that don't require an external emergency response.
Pressing the Staff Assist button on the homepage of your Rave Panic Button app opens a list of your organization's Staff Assist Templates. Your organization's administrators pre-configure each template with a message and situation-specific recipients.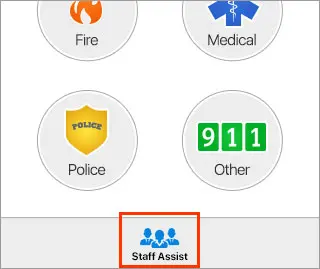 If no Staff Assist templates have been configured for your organization, the screen shows the following message. If necessary, you should return to the home screen to initiate a Panic Button activation.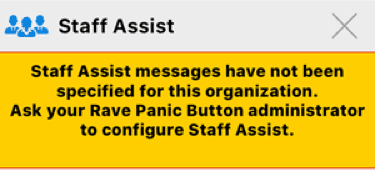 If you are an "Admin" Campus Contact, you can also send Custom Staff Assist messages. Custom messages allow Admins to communicate a unique need, follow up on earlier Staff Assist messages or even contribute to information disseminated during a Rave Panic Button Incident that involved 9-1-1 (e.g. "All Clear", "False Alarm", "Ambulance has arrived at North entrance"). "Admin" Campus Contacts will be asked to create a PIN code after installing the latest version of the app. This PIN will allow you to send Custom Staff Assist messages moving forward.
Rave Panic Button administrators can find further instructions on Admin configuration and custom Staff Assist messages can be found in the Help section of your facility profile.
Once you select Staff Assist, you will see this screen. If you are currently located on campus, that information will be preselected on your app. However, you do not have to be on campus to send a Staff Assist message and can send to any Campus you are a contact for.
For current users of the Rave Panic Button mobile app, here are some helpful articles to get you started.