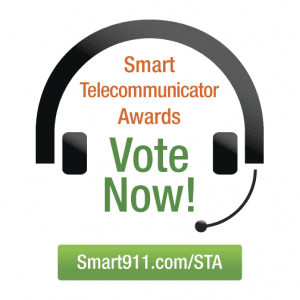 Nominations Now Being Welcomed to Applaud Nation's Unsung Public Safety Heroes; Winners to be Announced During National Public Safety Telecommunicators Week in April
FRAMINGHAM, Mass., February 22, 2016 – A 9-1-1 dispatcher in Pennsylvania, given limited information by a caller, is able to locate and he
lp save a citizen who had attempted suicide. Another call taker in Georgia is relied upon by first responders to provide them with added intelligence about emergency situations while en route, including how to interact with children with autism. A dispatcher in Oklahoma has talked 9-1-1 callers through administering CPR and delivering babies – all over the telephone. These examples of exceptional efforts in the field and dedication to saving lives have all been recognized by the Smart Telecommunicators Awards.
Now in its fifth year, Smart911, created by Rave Mobile Safety, the leader in creating data and communication software that safety agencies trust to help save lives, today opened the nomination period for the annual Smart Telecommunicator Awards. In support of National Public Safety Telecommunicators Week, held each year in April, the awards program recognizes 9-1-1 call-takers and dispatchers from across the U.S. who have demonstrated superb leadership, performance, compassion for callers, ability to inspire co-workers and overall contributions to their Public Safety Answering Points (PSAPs).
Anyone aware of a 9-1-1 call taker or dispatcher who has gone above and beyond the call of duty within the past year are strongly encouraged to nominate that person and their story at www.smart911.com/STA through March 18. Winners will be announced during National Public Safety Telecommunicators Week, April 10-16, in order to highlight the critical role these professionals play in creating better emergency outcomes. The awards program is sponsored by Rave Mobile Safety's Smart911, the life-saving national public safety service, in partnership with the Industry Council for Emergency Response Technologies (iCERT) and the Denise Amber Lee Foundation.
"Every single day, 9-1-1 telecommunicators work endless hours to answer life-impacting calls and mitigate difficult situations, ensuring that all citizens get emergency help when they need it," said Tom Axbey, CEO of Rave Mobile Safety. "For the fifth year, Smart911 and Rave Mobile Safety are honored to recognize telecommunicators for the invaluable service they provide, and for the positive impact they have made on the communities in which they serve."
On March 28, finalist nominations will be posted online, kicking off a public vote that will run through Friday, April 1, 2016. Smart911 will announce the winner during National Telecommunicators Week and make a donation of $1,000 to the charity of the winner's choice. Four regional honorees will also receive awards along with a $500 donation to the charities of their choosing.
Last year's winner was Gabby Romero of the League City Police Department in Texas. Romero was named the national winner for helping to save a man who had attempted to take his own life. While working her regular shift, she received a troubling call from a male subject who had threatened to injure himself, stated that he wanted to die and then abruptly disconnected the call. During the next several minutes, Romero demonstrated a calm demeanor, a focused response and the absolute determination to help another faceless citizen. Acting quickly, she was able to determine the caller's location. Unfortunately, he was not in her jurisdiction, so she contacted the neighboring agency and advised them of the man's location and of the critical situation underway. Responders reached the man in time. Romero's quick thinking and determination saved his life.
"Gabby is an exemplary member of our team and is respected by all of us. We are thrilled for her, as she is greatly deserving of this honor," said Michael Kramm, chief of police, League City, Texas. "She genuinely cares about the community she serves. We are extremely proud of her efforts to ensure the safety and well-being of the people of League City."
Smart911 allows citizens to create a free Safety Profile online for their household that includes information they want 9-1-1 and response teams to have during an emergency. When a citizen makes an emergency call, their Safety Profile is automatically displayed to the 9-1-1 call-taker, allowing them to send the right response teams to the right location with the right information. Fire crews can be aware of such things as how many people live at a home and the location of bedrooms. EMS can know about specific conditions for fast, precise medical treatment. And because profiles can contain photos, in the event of a missing child, police can gain an advantage, receiving critical information in seconds versus hours.
Smart911 is currently available in 40 states and more than 1,500 municipalities. It has been credited with positively impacting emergency situations and saving lives across the U.S., including a missing child case in Arkansas, a heart attack victim in Tennessee and a man trapped in a house fire in Michigan. As a national service, anytime a person with a Smart911 profile dials 9-1-1 in any location in the US that supports Smart911, their profile will appear to dispatchers allowing for more information to be available at the time of an emergency.
About Rave Mobile Safety
Rave Mobile Safety is the most trusted software partner for campus and public safety. Used by leading Institutes of Higher Education and State and Local Agencies, the award-winning portfolio of Rave SafeCampus, RaveAlert, RaveGuardian, Eyewitness, Smart911 and SmartPrepare enables millions to feel safe, secure and connected. Rave Mobile Safety is headquartered in Framingham, Mass. For more information please visit www.ravemobilesafety.com.