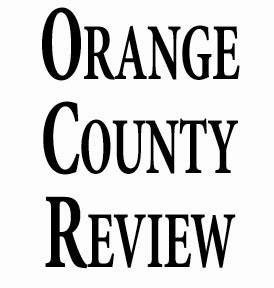 Most of us don't think about the Orange Street Festival as a place to learn something. Most likely, we think of it as a place to get food on a stick or funnel cakes, to get free give-aways from local business
es, to shop among dozens of arts and crafts vendors and, perhaps more than anything else, to see and be seen.
But Saturday's 41st Orange Street Festival, sponsored by the Orange County Chamber of Commerce, also offers two important educational opportunities. Certainly, there are multiple opportunities for us to learn things at each street festival--whether it's what local services businesses have to offer, or information about political candidates, voter registration or the efforts of local civic groups.
This year, the Orange County Office on Youth and Orange County E-911 will be at the street festival offering important and interesting information to those who stop by.
At the E-911 booth, county emergency communication staff will share information about Smart911—a progressive new service provided by the county that can simplify and speed-up the process when citizens call 911.
Smart911 allows citizens to link their cell phones or landlines to crucial information they have provided, in advance, through a user-generated safety profile.
When citizens place a call to 911, using a Smart911-registered phone, the system recognizes the number and displays the safety profile on the call-taker's screen. Setting up a safety profile takes about 10 minutes, and family members can be added.
There is no charge for the service and information may be updated at any time. Utilizing Smart911 can save precious time, especially during an emergency when communication is difficult.
Citizens can provide as much or as little information as they want. Smart911 only asks for information relevant to 911 responders in the event of an emergency and information is housed in secure facilities.
Meanwhile, at the Office on Youth booth, participants can get a preview of the effects of poor lifestyle choices. The office will debut its new APRIL Face Aging Software, a program that utilizes scientific age progression technology to produce personal and customized results for users and demonstrates the difference between those who age naturally and those who engage in risky behavior.
The software is effective for anyone between the ages of 7 and 70 and can show each individual who participates the stark differences between natural aging and the effects of smoking, sun exposure and obesity to improve their decision making. The differences can be jarring.
So when we're out at the street festival Saturday, collecting our swag, eating street food, supporting local causes and doing a little shopping, let's invest a few minutes in our own well-being by signing up for Smart911 and seeing how we can improve our inward and outward appearance by making healthier lifestyle choices.
By Jeff Poole