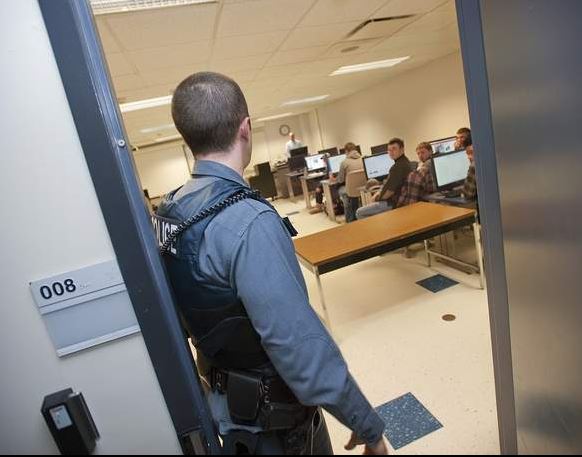 CANTON — State and local police officers were scattered throughout the quiet and cold SUNY Canton campus Tuesday morning as part of a college-wide lockdown scenario.
The 9 a.m. lockdown, which was part of a test of the college's new Rave Alert Emergency Notification System, was organized to help the campus community understand the procedures and precautions necessary during a lockdown situation.
Walking from the command center at Dana Hall, University Police Officer David J. Cummings and state Forest Ranger William V. Benzel said that training of this nature not only keeps them prepared for real-life situations but it helped off-campus law enforcement officials to familiarize themselves with the campus.
"It's a lot of teamwork, especially interagency, between us and troopers, village PD, sheriff's department, any local or federal agency that is going to come in and help us out," Mr. Cummings said as he began his securing of the halls of Wick Hall. "It gets us familiar with working with them … so that if something were to happen here, they would be ready to go and we could split up into teams and they are familiar with the buildings and everything."
Mr. Benzel said it's more than just becoming familiar with the campus and working with a different team of law enforcement officers, it is becoming familiar with a whole new environment.
"Where I am used to working in a more rural environment, there are buildings here and it is a whole different setting," Mr. Benzel said. "I like training like this. I know that in the event that if I am in the area and something comes up here, I am going to be responding as they would if they were in my area."
All campus activities and classes remained active during the 30-minute test and the entire procedure should not affect regularly scheduled college activities. Faculty, staff and students were encouraged to stay inside or go into the nearest building and wait for the completion of the test.
Mr. Cummings opened a door to a classroom with a class in progress. On the door hung a printout that read "Door Secure."
"How's it going?" he asked the class. "Did you get the Rave Alert?" A few heads nod. "Yeah?" several voices announced from within the classroom.
"If that was an actual lockdown, they would have had the lights off and would have been off to the side," Mr. Cummings said.
No stranger to this kind of protocol, Mr. Cummings had to secure multiple buildings on campus during the Oct. 23, 2014, campus lockdown after the college had received two anonymous messages through the social media app Yik Yak by then 20-year-old mechanical technology major Alexis Vazquez, of Brooklyn, which threatened to kill people.
Mr. Vazquez was charged under a section of federal law that prohibits the transmission of any communication containing a threat to injure any person or people.
Linda M. LaParr, the college's Small Business Development Center office manager, was on campus during the "intense" and "scary" lockdown in 2014. She said exercises like Tuesday morning's bring reassurance.
"It definitely helps everyone's peace of mind knowing that they are on top of every little thing going on this campus," Ms. LaParr said after she was checked on by Mr. Cummings and Mr. Benzel. "I think it is very good that they put us through these (exercises) so that we are more aware of what is going on, how to handle and how our participation helps them to their job as well."
Back at the mock command center set up in Dana Hall, state police Troop B Emergency Management Non-Commissioned Officer Chad K. Niles said exercises on college campuses are more challenging.
"A college setting is very open, it is very difficult to lock down all the buildings, plus how do you get a message out to so many people all at once?" Mr. Niles said. "So we look to do the same thing in the pre-K through 12 setting, too. The quicker we can get that lockdown announcement out, the safer people are going to be."
The new alert system is much faster and more flexible than the previous system, said Travis G. Smith, SUNY Canton acting director of public relations.
"Our students and staff can log in and add their contact information rather quickly and it gives us the flexibility to put things up on social media, email, all at once, so it makes operations in the PR office much more efficient," Mr. Smith said. "It is a win-win for everyone, really."
Paul M. Berger, commissioner of University Police, traveled from Albany for the exercise and said the quality of the plan was impressive and unique.
"It was unique in that they were going to do this exercise with classes in session … any disruption to the regular academic day becomes a big problem," Mr. Berger said. "Asking the campus community for those 30 minutes is a very bold step and I was really gratified to see the extent of the cooperation from the campus community."
Mr. Berger said thanks to University Police Chief Alan P. Mulkin and the college's president, Zvi Szafran, for creating an experienced campus culture that is strong in terms of safety and preparedness for emergencies.
"Exercises like this just improve the experience of today," Mr. Berger said. "Whatever they do next will just be better because it will just be informed by this experience."
By: W.T. Eckert