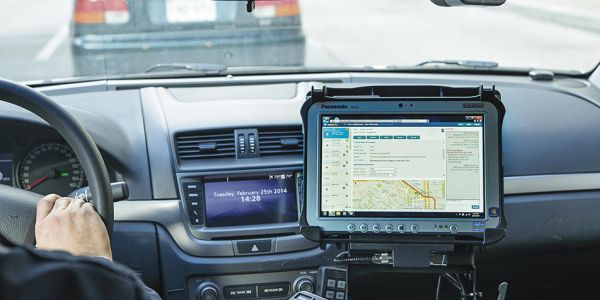 Underage drinking. Cars parked illegally. Threatening social situations. The nature of the real-time alerts that started rolling in to Virginia Commonwealth University's police dispatch center this past fall—sometimes as many as five a day—surprised campus-safety officials.
Before, says John A. Venuti, police chief at the university since 2010, "I would never get those kinds of tips." Even for smartphone-loving millennials, a suspicious-looking person doesn't usually prompt a telephone call, according to Mr. Venuti.
But not only are he and his colleagues now fielding such tips, they are also receiving details that can prove critical to a response, including exact GPS locations, physical descriptions, and photographs of license plates.
The conduit is LiveSafe, a mobile application that was adopted by the university in August and has been downloaded 4,200 times.
"We get the luxury of getting a lot of information from the students because we have this platform that is really, really easy to use," Mr. Venuti says, noting that students can text alerts to officials anonymously if they chose. "These kids are text-driven. They are mobile-device-driven. They can text faster than any of us can probably type."
LiveSafe, co-founded by a survivor of the 2007 Virginia Tech shooting, is one of a number of increasingly sophisticated mobile applications being snapped up by colleges looking to enhance emergency communication and response. Such technologies are gaining momentum amid a national conversation about campus safety that extends all the way to the White House.
In some ways, the technology moves institutions beyond mass-alerting systems, which became a legal requirement in the wake of Virginia Tech and allow colleges to send out emergency notifications by email, text message, and loudspeaker, among other mediums.
While specific features vary, many of the new apps can be integrated into existing alerting infrastructures while also creating a two-way channel of communication. Users send written or visual messages tagged with their GPS location to public-safety officials, who monitor the apps' back-end dashboards through web browsers, typically on monitors in command centers or on laptops in patrol cars. Officials can respond to alerts with follow-up questions or specific instructions.
"This allows us to now get information at the dispatch level that we have never been able to gather before," says Jason D. Friedberg, former chief of public safety at Bucknell University and now executive vice president of EmergenSee, a company whose namesake safety app is used by several dozen higher-education clients. "I think it will help us shorten incidents and lessen the severity of the incidents because we can mitigate them and deal with them that much quicker. That, without question, is one of the new benefits."
In addition to direct messaging, some apps include real-time GPS mapping of local crimes, allowing users to circumvent problem areas when walking or biking. Other apps have live GPS tracking in which a student crossing campus late at night can ask to be monitored by campus-safety officials or a friend until reaching his or her destination safely.
Visuals captured and transmitted by the EmergenSee app are automatically time- and date-stamped, ensuring they are of evidentiary quality and can be used in a criminal investigation, Mr. Friedberg says.
TapShield, a new safety app recently licensed by the University of Florida, includes technology dubbed "Yank" that sends an emergency alert to campus-safety officials in the event that an earphone plug is yanked from the socket of a smartphone, either by its owner or an assailant. It was designed specifically for students, who often walk or run around campus wearing earphones, says Jordan Johnson, president of TapShield. The user has 10 seconds to rescind the alert in the case of a nonemergency dislodging.
The idea for the TapShield app originated with an uptick in student-targeted crime that coincided with his term as student-body president at the University of Florida during the 2009-10 academic year, Mr. Johnson says. One facet of the university's response at the time was to install additional blue-light emergency phones, campus-safety stalwarts that can cost thousands of dollars each to install and maintain. But blue-light phones are not always nearby when needed, he says, and young people find it intimidating to dial the police.
"We communicate through text messages," Mr. Jordan says. "We are not picking up the phone. We are not emailing as much. We sure aren't running up to big blue poles to collaborate with first responders."
Vendors interviewed for this article say the cost to license their products is usually about $3 per student, although they emphasized their willingness to negotiate.
The new mobile technology is by no means a replacement for other, more-traditional campus-safety practices such as bike patrols, says David L. Perry, president-elect of the International Association of Campus Law Enforcement Administrators and police chief at Florida State University. Two years ago, his campus began using a mobile-safety application called Rave Guardian, one of a suite of products offered by industry heavyweight Rave Mobile Safety.
"There are occasionally accidental, false notifications that we get, but the rewards far outweigh any kind of negative things that happen," Mr. Perry says. "We have never had to deal with an abuser of the system."
The number of tips received by the University of Baltimore Police Department "is skyrocketing" since the LiveSafe app was brought to campus in December, says Joshua Offermann, the department's security-systems specialist. The back-end dashboard has a dedicated computer in the dispatch center, and is also monitored on Panasonic Toughbook laptops by officers in patrol cars.
"We are finding that students, even outside of the app, seem almost a little more comfortable with the police, like maybe they have connected with us on a different level," Mr. Offermann says. "It is not, 'You've called 9-1-1 and there's this very strict voice on the end of the line trying to get information from you.' It just feels more casual and relaxed."
The job title on the business card of Kristina Anderson, LiveSafe's co-founder, reads "chief evangelist." She was struck by three bullets during the Virginia Tech massacre. Then a 19-year-old sophomore, Ms. Anderson had entered her French class unaware that a shooting had taken place earlier in another university building. It would have been a different day if a tool like the LiveSafe app had been in place, she says. Ms. Anderson thought that the campus shooting she lived through was going to be "the big one and the last one." Each new event—there have been dozens of shootings at schools and on college campuses since—triggers in her sadness, compassion, and anger.
"It is definitely a very sad reality," Ms. Anderson says of the need for products like LiveSafe. "But I think what says more about our society is how we chose to respond to it and what we chose to do about it."
Posted on March 10, 2014
By Megan O'Neil