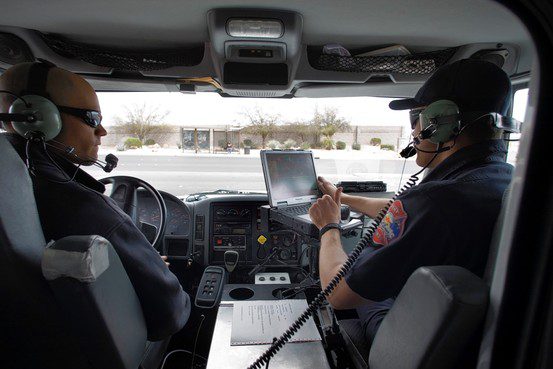 "I think [Smart911] will be wonderful for our citizens," said Evans Center Coordinator, Bev Longmire. "I'm really proud Grove City is so proactive."
Grove City has contracted for a new service to provide more efficient emergency responses.
Grove City officials last week announced the launch of Smart911 in the community. The national, private safety service is designed to enable more effective emergency responses, and Grove City is the first municipality in Ohio to offer the service.
Smart911 allows residents to create a "safety profile" for their household that includes any information they want response crews to know in the event of an emergency.
That information can include such data as how many people live at a residence, medication allergies, whether anyone has Alzheimer's or autism and whether there are any pets on the premises.
"Your safety profile will be immediately available to the 911 call taker," said Deputy City Administrator and Director of Public Safety Bill Vedra.
Vedra said service significantly enhances the city's 911 and emergency response capabilities for residents.
Grove City Police Chief Steve Robinette said the profile also enables people to upload pictures of their children, which would be useful in a missing child case.
"We can immediately get the picture into our call center and send it out to our cars," he said.
Robinette said the service also alerts first responders to potential hazards such as gas lines and works in more than 30 different languages.
"We're pretty excited about this," he said.
Jackson Township Fire Chief Lloyd Sheets said the system also will be beneficial for elderly residents and residents with disabilities.
"We see a great, big benefit to this," he said. "It's very useful to us."
Jessica Olson, community marketing manager with Smart911, said the company has secure facilities around the country that encrypt the data provided. Residents can access their profiles at any time and make changes based on their comfort level.
"It's completely voluntary," she said. "We're encouraging people to sign up and put up as much as they feel is necessary and comfortable."
The information residents and businesses provide to Smart911 is only sent to subscribed municipalities when an emergency call is made, Olson said.
The service is free for residents and businesses. Grove City is paying a subscription fee of $7,500 for the first year of service, which Robinette said the city expects to continue for the following year.
"We got a significant discount by being first in Ohio," he said.
Bev Longmire, coordinator at the Evans Center, said they would be encouraging patrons to sign up for the service.
"I think [Smart911] will be wonderful for our citizens," she said. "I'm really proud Grove City is so proactive."
For more information or to create a profile, visit smart911.com.