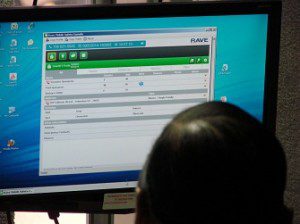 Edgefield County Emergency Management Agency (EMA) Director Suzy Spurgeon held a brief press conference and a demonstration of how the Smart911 system works and how it can save lives to local media and County Council Vice-chair Genia Blackwell. The system was launched in Edgefield County on Wednesday and 911 dispatchers are already trained in its usage and potential as a tool to respond to emergencies.
During the demonstration, Mrs. Spurgeon called 911 from her cell phone while standing in the 911 center. When the 911 dispatcher answered the call, a window opened on one of the computer screens used by dispatchers that had a profile of Spurgeon (pictured above) - where she lived, medical problems she may suffer from, the type of car she drives, and names of those also living in the family home and their ages.
In the event that a caller is unable to speak after dialing 911 from a cell phone, which would not show up where the location is other than the cell tower that is being "pinged" by the phone, dispatchers would have no idea who they were looking for or where they may be. If the person has a profile, that information is automatically displayed and would help dispatchers provide a wealth of information to officers and EMS if medical treatment may be needed.
The EMT's would also know what types of medical conditions their patient has to aid them in preparing to treat them on the scene, rather than spend time asking those questions when they arrive and are trying to treat the person. That is a greater help if the patient is unresponsive.
The system works by citizens going to Smart911.com and creating a free secure account. The account can be used to create a profile for one phone number or several numbers and individuals in the family. You choose what information to provide, which can be a limited amount of information, or extensive including where your bedroom is in the house, what type of pets in or outside the home, even pictures of your children in the event one was to go missing.
"In the event of a missing child," Spurgeon said, "rather than have to wait several minutes or even hours to get a picture, it would be available immediately to officers out looking for the child."
Any phone number that has a profile will have all of the information made available when the call to 911 comes in. Even if you are in another county, if that county has Smart911. Although your home address would mean little, information on who you are and the type of vehicle you drive would give responders who they are looking for, what they are driving and the general area the call is coming from, also speeding up response times.
The information you provide to Smart911 is secure and it can only be accessed by law enforcement dispatchers when you call 911, no other time, so no one is going to go snooping through your information.
"By taking the initiative to plan ahead for any emergency with Smart911, citizens are helping us better service them," said Fran Forrest, director of Edgefield County 9-1-1. "When an emergency happens, seconds matter and any time that can be saved by having information immediately to tell us who is in need of help and where they are, can make a significant impact on the response efforts."
Citizens are encouraged to create their Safety Profile with Smart911 today to have their information immediately available to 9-1-1. Smart911 data is private and secure, is only used for emergency responses, and only made available to the 9-1-1 system in the event of an emergency call.
"I encourage everyone to visit Smart911.com and create a profile," Spurgeon said.
Posted on September 4, 2014