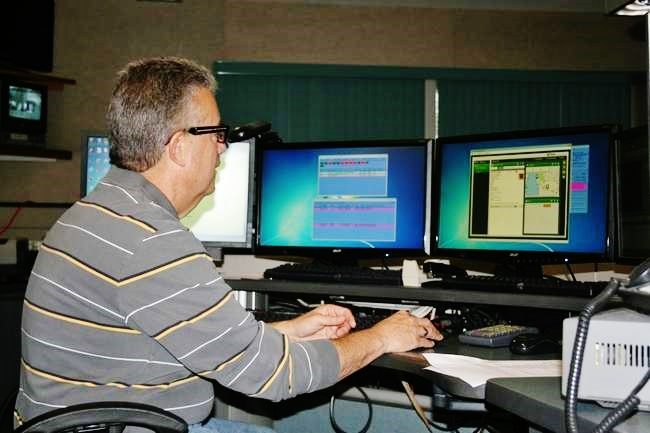 Jim Valentine, Ionia County Central Dispatch director, demonstrates how Smart911 works, using a profile he has created for himself and his family.
A new program launched by Ionia County Central Dispatch will help 9-1-1 call-takers respond more efficiently to emergencies. But only if citizens choose to participate.
State and local officials, local law enforcement and other emergency responders are joining Ionia County Central Dispatch in encouraging citizens to make a free Safety Profile for themselves and their families through Smart911, a national public safety service that enhances 9-1-1 emergency services.
Smart911 gives local residents and visitors the ability to provide potentially life-saving information to first responders before an emergency, so those details are available during an emergency – especially important in situations when the caller is panicked, unable to communicate or is somewhere it is unsafe to talk.
Citizens create a Safety Profile online that includes any information about themselves or their household that they want 9-1-1 and emergency responders to know in an emergency. When that citizen makes a 9-1-1 call, their profile is immediately displayed to the 9-1-1 call-taker, allowing them to send the right response teams to the right location with the right information.
Responders can be aware of details they would not have known otherwise. Fire crews can arrive at a house fire knowing how many people reside in the home, the location of bedrooms, any mobility issues and how many pets might be in the home. EMS can be advised of allergies, specific medical conditions and whether the resident uses oxygen. Police can have the photo of a missing child in seconds, rather than in minutes or hours.
When anyone in that household dials 9-1-1 from a phone associated with their Safety Profile, the 9-1-1 system recognizes the phone number and automatically displays the profile on the screen of the call-taker who receives the call. This is vital, because the information received by the 9-1-1 call center can be limited based on the type of phone the call is placed on. When a call is placed using a landline, the address comes up on the call-taker's screen. However, this is not the case with cell phones. For this reason, taking advantage of this free service is especially important if a resident's only telephone service is through a cell phone.
"If someone doesn't want to put a lot of information into the Safety Profile, at least put in your address, so we know where you're at, so we can find you in a time of emergency," said Jim Valentine, Ionia County Central Dispatch director. "This is especially important if you have younger children, who may not remember their address, particularly during an emergency."
The service is also ideal for families with a family member with a physical or emotional issue, a parent with dementia or a child with autism, Valentine added.
"We can get a photo out to first responders and the media immediately," he said. "The Autism Alliance of Michigan is a strong proponent of this, because there might be special responses that would be helpful if we are looking for a child with autism, for example, like they are afraid of uniforms."
By Karen Bota
Posted Nov. 22, 2013