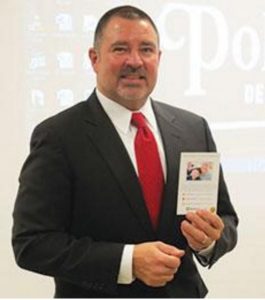 Sometimes a few minutes can make the difference between life and death. Most people know to call 9-1-1 in an emergency, but in a trauma situation, callers often can't think or speak clearly enough to give dispatchers the information they need to send the right kind of help, quickly.
Attendees at a recent "Coffee with the Chief" heard about a relatively new program - Smart911 - from J.P. French, director of Smart911 for the state of Arkansas.
Smart911 is a free service that allows individuals to provide information in a private and secure way that will allow responders to locate and help victims in an emergency.
Normally, when a 9-1-1 call is received by dispatchers at the Hot Springs Village Police Department, basic information appears on the screen; dispatchers attempt Smart911 facilitates emergency response to learn more about the emergency and any other information that will assist responders, but this takes precious time.
French, a former police chief of Cherokee Village, retired from the Arkansas Attorney General's office and heads up a company called Rave Mobile Safety, which implemented the Smart911 program statewide in 2012. Arkansas was the first state to deploy the system, and the first state to sign up for the RAVE panic button system in schools (see below).
The program, which is "completely free," according to French, allows households to enter information on the number of people normally in the house, number of bedrooms, hidden key location, door/gate access codes, vehicles and even pets. Information can be entered for each resident - medical conditions, allergies, medications, etc. Users can also upload photos of residents, which French said is invaluable in the case of a missing person (child or Alzheimer's patient). License plate information that is readily available can put officers onto the trail of a stolen vehicle immediately.
French also said the additional information is useful when a person is unable to communicate, either because of a medical condition or the caller's suspicion that an intruder may be in the house.
Asked about data security, French replied, "First of all, you can provide whatever information you're comfortable with." He then elaborated on access to information: the only time the information can be accessed is when a 9-1-1 call is made - "only the dispatcher can see the information, and only when you call 9-1-1." The database is not searchable, and is only available for 45 minutes (except in the case of an "extended ordeal," when a supervisor can override the 45-minute limit in 20-minute increments).
French said the company uses secure protocols and redundant (i.e., duplicate) servers, and conducts frequent audits.
Smart911 is a nationwide system and French said it can be very useful for travelers.
Although it is not a geographical system - meaning the call cannot be traced through Smart911 to a location - if a cell phone is tied to the user's profile, all information will be available to dispatchers.
French said it is important to keep information current - "out-of-date information is worse than none." The system sends out reminders every six months to update profiles - responders can either confirm that no changes have occurred or go to the website to update information.
Another program offered through the Smart911 system is Smart911Facility. Several issues confront responders to emergencies in businesses, churches, community centers, etc., and this program allows owners or managers to establish profiles to streamline response actions.
Information such as floor plans, phone numbers, contacts, gate or access codes, utility access and shutoff locations, location of AEDs, etc. can be entered; a "geo-fence" (using geographical coordinates) can be established on the boundaries of the property, and any calls from within that "fence" will trigger the facility profile. French said this "geo-fence" usually includes parking lots and outdoor areas, such as playgrounds, etc.
HSV Police Chief Ricky Middleton said Hot Springs Village does not currently utilize Smart911Facility, but notices have gone out to churches and other facilities in the area about the benefits of enrollment in the program.
Another program offered by the company is the RAVE Panic Button - a system used in schools, government facilities, etc. that facilitates notification of first responders, as well as employees, about emergency situations (for example, an active shooter in a school). All public schools (K-12) in Arkansas utilize the system.
For more information on Smart911, visit the website at www.smart911.com; information on Smart911Facility can be found at www.smart911facility.com.
Coffee with the Chief is held the second Tuesday of each month at 8 a.m. at the Police Training and Event Center on the corner of Balearic and Ponderosa Lane. The next session is Jan. 10, 2017.
Source: SW Times