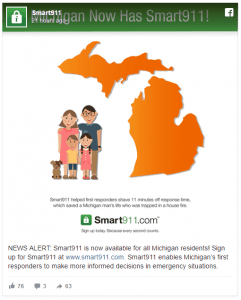 https://www.youtube.com/watch?v=_25nr0Ev8Vc
MICHIGAN (WPBN/WGTU) -- A tool that provides authorities with important data that citizens voluntarily provide in the event of a 911 call will soon be available statewide.
Smart911, a program by Rave Mobility, announced Tuesday its initiative to make Smart911 available to all Michigan residents.
Smart911 is described on Rave Mobile Safety website as "a comprehensive software program that facilitates data and communications in the event of a 9-1-1 call. With Smart911, Michiganders can create an extensive online profile, which displays to dispatchers when a 9-1-1 call is made. Critical information such as home address, bedroom location, pet information, medical details and whether households include people with dementia or children with autism can all be provided and can improve response."
"If you dial 911 from your cell phone, it's going to ping a location where you're at, a general location," said Jerry Wojtankowski, firefighter and paramedic with Traverse City Fire Department.
Sometimes the general location isn't good enough when it comes to an emergency.
That's why the program Smart911 is useful to first responders.
"We typically benefit from additional information that we get from emergency runs and a lot of that has to do with allergies or chronic medical conditions," said Matt Ansorge, Leelanau County Director of Emergency Management.
"In emergency situations, every minute counts and enhancing 9-1-1 services across our state is essential to protecting the lives of Michiganders," said Brian Calley, Lt. Governor of Michigan. "Services like Smart911 help us advance the tools that our dispatchers can use to help save lives on a daily basis. State funding will help communities across our state take advantage of this program and have extra resources to help save lives in emergencies."
Smart911 is currently available across portions of 43 states and thousands of municipalities across the country, and has been credited with positively impacting countless emergency situations.
Rave Mobility along with state funds are making the program available to all Michigan resident, but counties have to opt in.
Grand Traverse County was the first county in Michigan to use Smart911.
"It's going to be free for at least the first year," said Ansorge. "After that, it may be a year-to-year commitment. We're not sure how that's all going to work out at the state level."
You can sign up with Smart911 for free on your smart phone or on a computer and enter things like your home address, medical details, family and pets.
Two years ago, a Grand Traverse County man was saved from a burning house. Dispatchers said Smart911 gave first responders critical information that helped save his life.
"I'm able to hug my kids every day because of it now," said Dan Hoffman who survived a house fire. "I have a lot of respect for these guys and what they do."
"En route, it also gives us time to think and plan what we're going to do for our means of treatment before we get on scene if it's a possible diabetic or somebody with heart problems," said Wojtanowski.
Smart911 is a nationwide program. If you sign up for it, your profile will follow you any place using the system, which Ansorge said will be beneficial with tourists in the area.
"The profile, when they call 911, is only active for a certain amount of time then after that it goes away," said Ansorge. "It will be long enough for us to able to reference that information during the normal execution of a call."
Leelanau County is hoping to have the Smart911 program up at running by the beginning of December.
To sign up for Smart911, CLICK HERE.
This article was originally posted here.