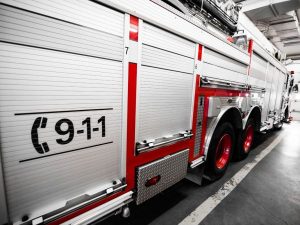 No-cost upgraded service allows residents to give helpful information ahead of time to emergency services.
Macomb County will get Smart 911 beginning next year. This will allow faster and safer response times from first responders, officials said Monday at a news conference.
Residents who sign up for the Smart 911 service can pre-load information on their families, special needs, medication and number of pets in a household. That information will be made available to emergency dispatchers when 911 is called, Macomb Daily News is reporting.
"First responders will go into households knowing more about the challenges and happenings and circumstances about that household," said Lt. Gov. Brian Calley at the Macomb County Communications and Technology Center (COMTEC). "It will save time with a higher degree of efficiency."
The upgraded 911 system will be a cellular-based emergency system. Smart 911 calls will be routed using geographic coordinates, so dispatchers will automatically be able to see the caller's location and whether they are calling from a moving vehicle or stationary position.
Dan Hoffman, a laborer from the Traverse City area, was present at the news conference. He said his life was saved after dispatchers used his Smart 911 profile to locate him when his house caught fire in 2014. Unable to speak when he called 911, and dispatchers used his Smart 911 profile to identify his address information, which saved 11 minutes in response time for firefighters.
"When EMS showed up, they realized there was a fire in my house and broke down the door and dragged me out," Hoffman said. "My house was 3-4 minutes from a flashover. The technology saved my life."
Todd Piett, chief product officers for Rave Mobile Safety, the administrator of Smart 911, said residents can sign up for the service at Smart911.com at no cost. Residents can enter their exact address along with other information that will be helpful to first responders in emergencies.
People signing up for the service can enter information ranging from medical condition, medications, photos of their children or pets, what doors may be open and other useful details, Piett said. The hearing disabled can also text the information.
That way, police or firefighters responding to an emergency call will have advance knowledge of special circumstances they may encounter one on scene.
"The information will only pop up if you call 911," Piett added.
Michigan has $2.2 million allocated in grants as seed money to get the service up and running in all 83 counties, according to Republican state Sen. Margaret O'Brien of Portage. Macomb County expects to receive $14,000.
From there, county officials expect to pick up the annual operational cost, which is anticipated to remain roughly the same, said Macomb County Executive Mark Hackel.
Hackel, a former county sheriff who started his law enforcement career as a dispatcher, said the technology and information enhancements allow first responders to "do what we can do better and quicker."
Capt. Monica Yesh of the Michigan State Police said Macomb County is one of the state leaders in technology, so the service will fit in with that mission.
"Any tool we can get to enhance our ability to provide our service to the public is so welcome," she said. "If we can get information ahead of time to help us where we need to go, I think it's excellent technology."
Photo via Shutterstock
Read original post here