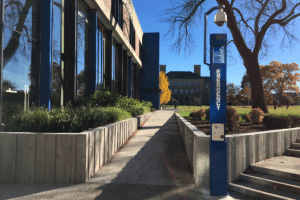 Staying safe on campus involves much more than looking both ways before crossing the street. The UMass Lowell Police Department (UMLPD) says it is important that all students use common sense and make safe choices on campus.
At the start of every semester, the UMLPD sends an email to all students outlining how to contribute to personal and community safety; trusting instincts, staying alert and paying attention to surroundings are three major guidelines to follow, says the UMLPD.
The emails are only part of the efforts to make students safe, according to UMass Lowell Chief of Police Randy Brashears. In the six and half years the chief has been here, the UMLPD has made beneficial improvements to increase security. "The primary changes have been instituting a more community policing model here. We have hired experienced officers with a lot of different experiences and backgrounds," said Brashears.
University police is not the only university service that helps keep its community safe. Campus Transportation Services has River Hawk Roadster shuttles to transport students, community members, faculty and staff to different areas of the University.
"I probably only use [Campus Transportation] about once a week, but I do feel safe when I go out," said sophomore Kelly Bray, a music performance and music education major. Bray said the majority of her classes are on South Campus.
Both commuter and residential students benefit from Campus Transportation Services because there is a distance between campuses longer than a 10 minute walk. On board, shuttles are equipped with surveillance cameras to promote a safe and secure ride.
A commuter freshman nursing student, Jessica Carnevale, has a different approach to her personal safety. Carnevale is sure to always lock her car in the parking lot before walking to class.
As a typical safety measure, the University has placed several emergency lights all around campus that will dispatch the UMLPD the second the button is pressed. "They have the blue-lights. If I was near one of those, [UMLPD] would be easily accessible," said Carnevale.
Brashears said that there are 194 blue-light emergency phones. "We've added more over the years. I was surprised by that large number," said Brashears. "This system makes it easy for the UMLPD to identify the caller's location fast and send help immediately."
During Brashears' time at the University, another major improvement his team has implemented is increased residence hall security. He said they have hired a professional contract firm, Securitas, focused on ensuring residential students' safety.
The UMLPD has two teams, one for day and one for night shift, for patrols and door unlocking if necessary. "Around 10 o'clock, they work in each dorm in the entryway checkpoint and make sure that our students are safe at night," said Brashears.
Walking alone at night can be dangerous in a city, and the UMLPD says to avoid that and be attentive to surroundings. "If I ever go off campus, I always go with other people. I would never go alone. In terms of on campus, I don't feel unsafe ever," said Bray.
The UMLPD says that if someone was to feel unsafe, it would be important to have the UMLPD numbers saved in their contact list in case they are not near a blue-light emergency phone or even experience trouble off-campus. In the introductory email the UMLPD sends, they say to program the number (978) 934-2394 as "Police" for non-emergency calls and (978) 934-9111 as "Emergency" for issues needing immediate attention.
Another way the UMLPD notifies students about emergencies is "Rave Guardian," an app for Android and Apple devices. Brashears said the app sends alerts about campus cancellations, parking bans and safety advisories. "When you first came on campus, you were told about that. We encourage all students, faculty and staff to sign their cell phones up so they can get the messages," said Brashears.
Brashears said that students are encouraged to register for Rave at orientation. Both Carnevale and Bray remember signing up. If students are not receiving alerts, registering is as easy as downloading the app and entering their student email address and phone number, says the UMLPD.
Student safety will continue to be a major focus considering the number of incoming students has been record breaking for the last two years, Brashears said. "As the university continues to expand, both square footage wise and programs with additional students, we have to keep pace with that with our staffed levels. We're a state institution so there isn't an unlimited amount of money; we have to spend it wisely and keep pace with that growth of programs and services," Brashears said.
The UMLPD is located in University Crossing Suite 170. If anyone on campus is worried about their safety or in need of requesting help in an emergency, Brashears said, "Call us. That's the best way, to just call our number."