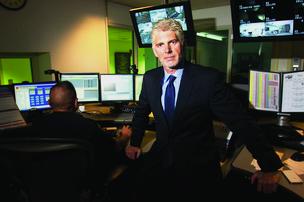 Safety first for Rave Mobile
Taryn Plumb, Special to the Boston Business Journal
August 2, 2013
The goal of Rave Mobile Safety is to literally put your safety in your own hands.The Framingham company's suite of products for campus and public safety agencies enables users to send and receive alerts, make anonymous tips, and create profiles that can be called up in seconds in the case of an emergency. "We're trying to change the face of public safety," CEO Tom Axbey said.
Founded in 2004 as Rave Wireless, then reconfigured and renamed in 2008, Rave Mobile Safety is backed by $39 million in capital, with investors including Bain Capital Ventures and Sigma Partners.
The company launched its signature Smart911 safety service in 2010. Users simply fill out a profile on smart911.com that includes as much or as little information as they want (from basic information, to their allergies and medications, to whether they have dog or cat companions in the home). According to Axbey, it has been deployed in 450 municipalities across 35 states, including locally in Milford and Framingham.
"(Profiles) include anything you would want a first responder to know if you have to call 911," Axbey said. "When first responders have that data, they can react so much faster. That's really the big picture here — getting the right data to the right person at the right time."
The system was implemented in the Framingham Police Department about two months ago. Logistics officer Ed Burman said it's been helpful in a few cases so far, including a medical emergency in which the caller had listed all her medications in her profile, which ended up being crucial information for the first responders.
He also noted the ability to include emergency contacts in profiles, which can be "priceless" for medical calls when the subject might be indisposed. Also, because people are reminded automatically every few months to update their profiles, "Rave doesn't allow the information to get stale," Burman said.
Meanwhile, the company's campus products are used at "hundreds and hundreds" of colleges and universities, Axbey said, including the UMass school system and Boston College.
One system allows administrators to simultaneously broadcast messages through numerous channels, such as email, voice, SMS, RSS and social networks. Axbey noted that it was used widely following the Boston bombings, as well as during significant weather situations. Emergency notifications help "notify the population what to do," Axbey said, "and how to act, in these situations."
Another product, "Rave EyeWitness," allows students, staff or faculty to become "tipsters" by unanimously alerting campus police to suspicious or illegal activity. "Rave Guardian," on the other hand, pulls up a complete profile — containing anything from location, to medical conditions, to photos — whenever a student, staff or faculty member phones in to campus police. Callers can also activate a timer if they feel unsafe or threatened — and if the timer is not later deactivated, campus police can use the profile information to check up on the person.
With 50 employees, Rave Mobile Safety is hiring at a rapid pace, Axbey said. Revenue is derived from annual contracts with municipalities and campuses, and, although Axbey wouldn't divulge firm numbers, he did say that the company is growing about 50 percent year-over-year.
Looking ahead, it's planning some "cross-pollination" of its current products into other marketplaces, he said.
"It's very humbling, but also very pleasing, to know the impact we're having on public safety," Axbey said.