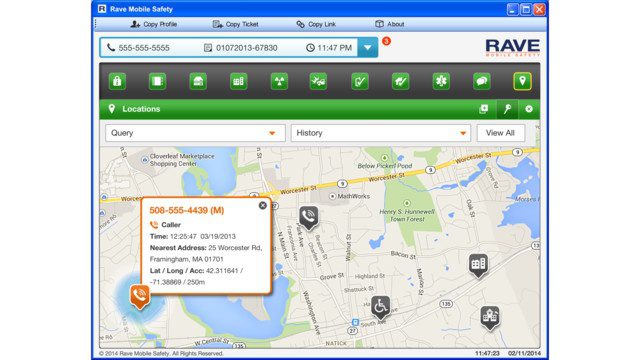 Dispatchers have a tough job. They are the high-stakes switchboard of any agency. What makes this
vocation particularly tough in today's landscape is expectation: while citizens are used to GPS and their phone's location data tracking their whereabouts, dispatch systems aren't always so intuitive. These two agencies (one in California the other in Michigan) did their homework and purchased new software to help integrate their workflow and also respond more effectively. The upgrades made their job easier, but also give entire communities greater peace of mind.
An eye on integration
Garden Grove (Calif.) Dispatch
Garden Grove Police Department has 159 sworn members and 16 dispatchers who field approximately 6,000 calls for service per month. The agency was in top form, but administrators wanted to improve operations by streamlining even further. "We were looking for a system that would integrate all of our different software systems into one. CAD happened to come along for the ride," says Police Communications Manager Rebecca Meeks.
Purchased: Garden Grove turned to Spillman Software to purchase a customizable CAD, RMS and jail management system. Spillman took eight of the agency's standing systems and rolled them into one.
What it meant for dispatch: "We don't have to query several different systems to get the information we need; now that the records management system is integrated with the CAD we just do one search and it all comes back, versus having to go to a different terminal and look everything up." Meeks has been with Garden Grove, Calif. Police department for 22 years. She was part of the committee to update CAD and RMS systems agency wide. They have been using the new software for six months.
Dispatchers have no complaints so far. It helps that they can make updates within the system that they could not access before. This eliminates the extra step of sending an email to a manager and waiting overnight or sometimes over the weekend for a response.
Favorite features: "We used to have to open each call ticket to see who we'd responded to, and then we'd have to go through and mine the data out," says Meeks. Now known associates are hyperlinked and show up in one place. "On one screen dispatchers can see the calls we've responded to, the type of call we responded to, and the people associated with that address."
Special circumstances: Dispatchers can now add location or premise warnings to addresses. Eg "resident is nonverbal." "It does the job when we need it to," says Meeks.
Transition notes: She offers the following advice to agencies looking to purchase new software or make some upgrades: "Make sure your dispatchers are prepared for the change and know what's going to happen." They held an open house where Spillman reps came out and did mini-demos for those who would eventually use the new product. The agency involved as many disciplines as possible who would be affected—property, field and records—in implementation teams. "That way it didn't all fall on the system administrators…and it's helpful for us (managers) too because we're not always here," says Meeks. The transition took some time—six months leading up to going live and an additional six months of meetings after to check how things are going.
Finally, she advises to "Make sure you make your practices fit the system rather than making the system fit to your practices. That was one of the things we had a lot of philosophical debates about."
Trading up for smart features
Ottawa Co. (Mich.) Central Dispatch Authority
Between emergency and non-emergency calls, the 26 full-time Ottawa County dispatchers field about
350,000 calls per year. The region has 268,000 full-time residents, two major universities, and 40 miles of Lake Michigan shoreline. With a heavy migrant population, call-takers were often left to fill-in-the-blanks with various types of calls to 911.
Purchased: Two years ago the county purchased Rave Mobile Safety's Smart911. "If you don't know where we are, we don't necessarily know where you are," says Tim Smith, executive director, Ottawa Co. Central Dispatch Authority. With Smart911, individual people or facilities update their personal information and it becomes available to dispatchers immediately should that person contact 911. Smith adds, "When you're having an emergency you…can't even remember your own address sometimes. So with that information right in front of us we're now just verifying, 'You live at 123 Elm Street. Yup.' All of that information is right in front of you."
Anyone can create and update their profile with address, work address, school address, summer home and additional data, including medical conditions, pets and photos of children. This information is then pulled up immediately by dispatchers. Smith says they get many "profile pops" on people who are from out of state when they are in the county for tourism or work.
Favorite features: In addition to individuals adding personal profiles, there is a new Facilities Profile option. The agency is targeting its area businesses, churches, schools, senior centers, etc. to add their details. "As long as they're signed up with a profile, no matter where they are…if it's a Smart911 area it brings the information up," says Smith. This is valuable for their tourist and campus populations in particular. "If they have an incident on campus, being able to know where they are on campus and the emergency contact information for their parents or other folks and…medical information is really helpful to us."
Another valuable feature is the Chat Session where dispatchers can initiate outbound text to any phone capable of receiving them. He says that of about 25 percent of 11,000 calls people will respond to text (rather than answer an unrecognizable number) and reply their call wasn't an emergency, but rather a butt dial/kid dial/whatever the case may be.
The text feature has also proven useful in a few cases of domestic assault in progress. "Through texting back and forth dispatchers have been able to determine what's going on and get out there," says Smith.
Getting the word out: Smith's agency spreads the word about Smart911 through its media partners and media presentations. "We always do an overview of 911 and Smart911 and explain how that gives us more information to help you the citizen when you're in distress."