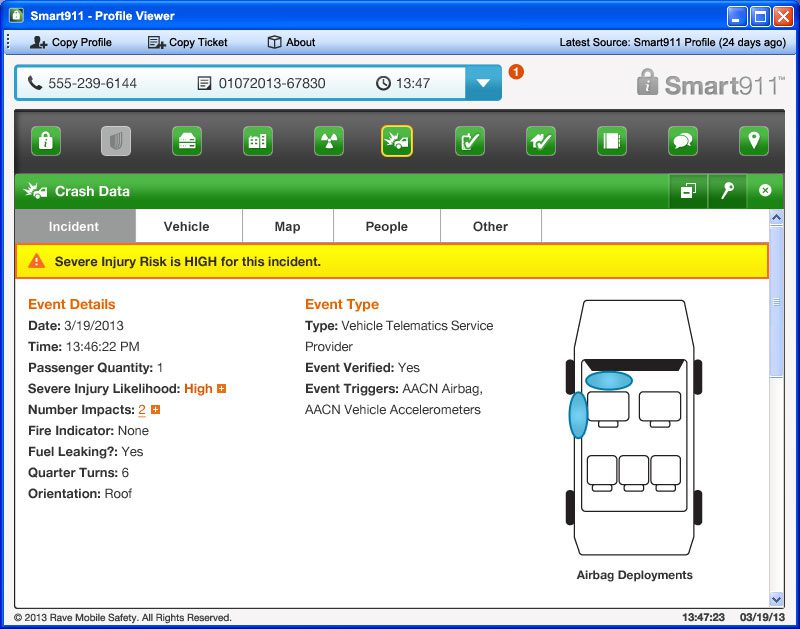 "[The National Emergency Numbers Association] applauds this important step in enhancing the availability and delivery of data to telecommunicators and first responders." -- Brian Fontes, CEO of NENA
Posted: November 6, 2013 By: John Day
Rave Mobile Safety, which specializes in providing 9-1-1 information to first responders, said it can now provide such information from vehicle crashes, saving precious time.
Rave recently demonstrated the successful delivery of telematics crash data to a Public Safety Answering Point (PSAP) in King County, Washington.
Rave chief product officer Todd Piett said his firm worked closely with telematics service providers including OnStar, as well as King County officials, to develop the faster crash notification demo.
Rave's Smart911 public safety service, based on patented technology, is used by emergency responders in more than 400 U.S. municipalities, including King County.
In the King County demo, Rave's Smart911 Connect platform was shown to recognize 9-1-1 calls originated from vehicle telematics service providers. Smart911 then rendered rich data about the automatic crash notification directly on the 9-1-1 call taker's desktop screen.
This process included converting the complex Vehicle Emergency Data Set (VEDS) into a format that could be readily interpreted by 9-1-1 personnel. The demonstration in a live 9-1-1 environment sets the stage for increased crash response capabilities nationwide.
"The intent of the Vehicle Emergency Data Set is to establish a uniform data template for collection and transmission of vehicle crash information among multiple emergency responders," said Brian Fontes, CEO of NENA (National Emergency Number Association). "NENA applauds this important step in enhancing the availability and delivery of data to telecommunicators and first responders."
Automated Delivery of Critical Crash Data
"What we have accomplished here in King County is landmark," said King County E9-1-1 Program Manager Marlys Davis. "Together with Rave using Smart911 Connect and our existing Smart911 installation, we have pioneered automated delivery of critical crash data directly to a 9-1-1 call taker. The integration was straightforward and we are encouraged by the outstanding results. Now that this test was successful, our 9-1-1 centers have the technology necessary to receive live data from real accidents, which will improve the safety of King County residents."
"OnStar is committed to improving vehicle safety and the effective use of telematics data to improve crash responses," said OnStar's Cathy Bishop, Global Emergency Services Outreach and Strategy Manager. "The Smart911 Connect platform offers the potential for a simple yet powerful way to deliver this data directly to first responders."
"Seeing King County, OnStar, and Rave work together with a common goal is rewarding. Together we've shown that we can improve the data available to call takers, ultimately increasing the effectiveness of emergency response," said Rave Mobile Safety CEO Tom Axbey. "We commend King County for again demonstrating their leadership in using technology creatively to enhance public safety. It is also gratifying to see our patented Smart911 Connect platform delivering NG9-1-1 data in a production environment."