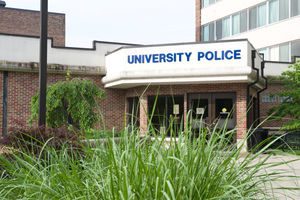 Parents who are getting ready to see their young leave for Indiana State next fall will have some basic concerns for the safety of their children.
Those parents should be relieved to know, that over the course of the past few years, ISU has implemented tools and procedures equipped with the ability to allow students to communicate
possible emergencies no matter their location on campus.
Whether it is the Blue Light emergency phone system, the Rave Guardian app, silent witness reporting, or even personal self-defense items, students of ISU have multiple resources at their disposal in order to ensure their own personal safety.
The Rave Guardian app itself specifically permits students to send alerts by managing a "safety timer" which allows students to share their location with trusted individuals when "meeting with someone you don't know or any other time you would like someone to check in with you," as stated on the university police website.
This feature can be utilized by both ISU students and parents as a way to stay connected while living apart, or even as a means to make an emergency phone call if needed.
According to Assistant Chief of Police Michele Barrett, "The Rave Guardian app has 365 users, one new registration within the past 30 days, one guardian panic call in past three months, and seven guardian timer sessions in past three months."
Students who have witnessed a crime can get in contact with the university police by using the silent witness reporting hub which is available through Indiana State University website.
This resource makes it possible for individuals to "… submit reports of suspicious or criminal activity anonymously."
Those who choose to engage the silent witness reporting hub have the ability to enter personal information such as, name, email and phone number, but are not required to do so.
Currently the Rave Guardian application is the preferred method of reporting a crime that has either happened or is in progress, as the silent witness hub is more of a tool to share information with police.
"If a crime or incident is occurring at that moment, students should use the Rave Guardian app or call our dispatch center," Barrett said. "The silent witness system is not monitored 24/7, therefore if an incident is in progress it should be reported by another means so that officers can be dispatched immediately."
Students who feel threatened while on campus also have another way of getting in contact with university police should they not have the ability to use Rave Guardian.
The blue light emergency phone system provides ISU students with a way to immediately contact campus officials by pressing the emergency button.
The phones act as an emergency system, that can be used "for anything you would even use your telephone for," said University Chief of Police Joseph Newport.
"If you saw somebody injured, or you got somebody that's coming after you and you don't feel comfortable or they made you feel unsafe, I would definitely use the emergency button," Newport said.
For any non-threating situations, or to simply ask a question, the blue light system contains an "information" button which can connect students to those that can help.
The best way to ensure that a crime is reported correctly is to merely contact university police directly through phone or in person.
Even with the multiple resources available to students, university police recommends this approach to those who have information on a crime, or the need to report one.
For more: click here