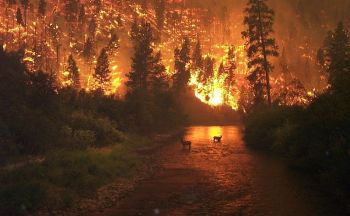 The Albany County Emergency Management Agency is Rolling out a New Program to Gather Information on Residents to Help Responders in the Event of an Emergency.
The Albany County Emergency Management Agency is rolling out a new program to gather information on residents to help responders in the event of an emergency.
Albany County Commissioners voted Tuesday to approve a one-year, $7,500 contract for the SmartPrepare software, a product of Rave Mobile Safety.
The program gathers only information voluntarily offered by residents, said Aimee Binning, Albany County Emergency Management Agency coordinator.
Having the information on hand can help emergency management coordinators and responders proactively plan for emergencies, Binning said.
"Let's say we have a fire up in the north end of the county," she said. "I can do a geo-query for the north side of the county by selecting my GIS points, and then — based off the information that people have entered — I can identify if they're unable to (evacuate by themselves), how many animals live there — those kinds of things."
When signing up for SmartPrepare, residents are asked a series of questions tailored to give responders helpful emergency-related information.
Data gathered includes address, phone number, medical information, household members, sensory or mobility impairments and details about pets, service animals and livestock.
Residents also have options to provide more detailed information; for example, whether there is sufficient food in a residence to last for 72 hours; whether the property has options for sheltering in place during an emergency; alternate evacuation routes near the property; and whether a resident has a personal vehicle that could be used in the event an evacuation order is given.
Binning said all of the data gathered is in the interest of helping Emergency Management prepare and respond during emergencies.
Additionally, all information is kept confidential. It's used only for emergency situations and won't be shared or sold — not even with other governmental agencies, she said.
SmartPrepare is part of Rave's Smart911 program, also used in the county, Binning said.
"The Smart911 is the overall program, and then SmartPrepare is a subsection of that program," she said.
"When people sign up for Smart911, anywhere that they travel in the United States that has the Smart911 system, when they dial 9-1-1 on their phone, it'll bring up their information for the dispatcher."
Smart911 also helps responder efficiency in the event of an emergency, according to the Smart911 website.
"At a time when you may be panicked, or unable to communicate, or it could be unsafe to communicate, Smart911 ensures that the details you would need to tell 9-1-1 (dispatchers) are immediately available in the event you cannot verbally provide them," according to the Smart911 website frequently asked questions.
Binning said residents interested in signing up and providing information can do so atwww.smart911.com/smart911/ref/reg.action?pa=albanyema.
Emergency Management also plans to set up its Albany County Public Health Mobile Response Unit trailer for signups at various locations during Laramie Jubilee Days.
For example, on July 10 and 11, the trailer will be at the Albany County Fairgrounds.
Contact Binning at 721-1815 or ABinning@co.albany.wy.us for more information.
"The value to signing up is it helps us be better prepared for emergencies," Binning said. "The information is what you choose to put in there."