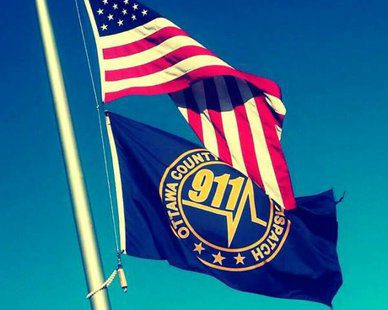 Ottawa County Central Dispatch Authority has Unveiled a New Program that will Provide 9-1-1 Call Takers with More Information in Emergencies as well as Reduce the Overall Response Time of First Responders.
Called the "Smart911" program, the program allows all residents and businesses in the county to register their home, business, and cell phones with Smart911 and build a "Safety File." That file will be made available to dispatchers and ultimately first-responders when a call to 911 is made from a registered phone.
The program -- the first of its kind in West Michigan -- won't officially launch until March 3, but Ottawa County residents have already started to register with the service. The program is currently available in Eaton, Ionia, and Van Buren counties and in the city of Traverse City, according to the Smart911 website. Ottawa County residents can register online through the Ottawa County Central Dispatch Authority's website. Registration takes just a few minutes for each phone registered.
"I have a son whose home address is in Ottawa County, he went to school in Flint, and last year did an internship in Washington D.C where they have the Smart911 program," said Tim Smith, who is Ottawa County Central Dispatch director. "If my son would have called 911 in Washington D.C for any type of emergency, his information would have been available to dispatchers there, including his emergency contact numbers, and that was important to us."
Smith said it is important for the public to understand that this is a completely voluntary and free program for residents. "There is no financial information associated with this program," he said. The only information available to dispatchers is the information those registering decide they want to share in their Safety Profile.
Tom Valdez, Ottawa County Emergency Dispatch assistant director, said the new program will help first-responders know for example if there is an elderly resident, autistic child, a blind or deaf person, or someone who has mobility issues living in a home if that information has been inputted into a safety profile. "When a call comes to 911, whatever information the owner of that number has inputted will appear on the dispatcher's screen, which will save valuable time for both the dispatcher and those called to respond," he said.
The system allows residents to upload photos, medical information, and other information that may be useful to first-responders. "If a parent has registered with Smart911 and has uploaded a photo of their child and the child goes missing, for example, dispatchers can immediately send the photo to all law enforcement agencies in the area, speeding up the chance of finding the child," Valdez said.
Smith has gone so far to upload photos of his family and the family dog.
Having emergency contact information as part of the safety profile is important in case of an accident or other emergency, Smith said. "If the victim can't respond, first-responders can punch 911 into a victim's cell phone and if it is registered, the inputted information will come up on the dispatchers' screen. I am convinced that this system will save valuable seconds for the dispatchers and ultimately save lives," Smith said.
Businesses can also upload information on their business, which might include any hazardous materials being stored on site and where they are located, a floor plan of the business, and any other information that might be useful to police or fire departments responding to a call.
"Any information inputted to the Smart911 system is secure and cannot be accessed by anyone other than a dispatcher and only when a call is made from the phone that is registered," Valdez added.
Valdez encourages people to register both their cell phones and landlines if they have them. Last year less than 12 percent of the calls coming into 911 dispatch center in Ottawa County were from landlines. "If someone calls from a landline, we know exactly where the call is coming from," Valdez said. "We can usually get a general location of a cell phone, but if the person has inputted their home address, work address, and even places they vacation regularly, if a call is made from the phone in those areas, we have a much easier time getting help where needed."
Several states area now using the system, so if a registered phone calls 911 in those states or other counties using the system, the caller's information will come up with those dispatchers as well.
"We are going to make a big push in the fall to get all of the college students at Hope College and Grand Valley State University to register with the Smart 911 program so that we know where they live while going to school but also so we have their home address, medical and emergency contact information," Smith said.
The service is free to anyone living in Ottawa County and the parts of the city of Holland which lies in Allegan County but are served by the Ottawa County Emergency Dispatch.
The program is being paid for by Ottawa County Emergency Dispatch general fund, which is funded through a county-wide millage, and will cost an estimated $45,000 annually.
Posted on February 26, 2014
By Jeffrey Cunningham, mlive.com