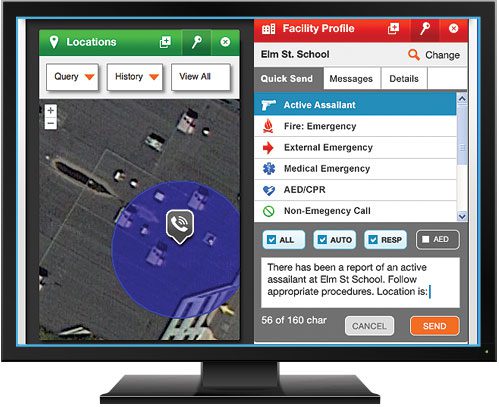 Nettleton School District is the first in the state that has a new emergency response system in place. During the last legislative session, state lawmakers mandated that all schools in Arkansas have a system in place that could help provide faster service in the event of an active shooter or an emergency situation. All public schools in the state will use a RAVE Panic Button system that allows designated officials to call for help by pressing a smartphone app. Nettleton Schools are the first in the state to be a pilot school and to have the system online. Superintendent James Dunivan tells more about the RAVE Panic Button.
"The earlier you can notify authorities about problems, and the quicker they can respond, the better it is for everyone. The legislation initiated this and we got in there and found out what company was going to provide this service and they agreed to let us be one of the pilot schools."
Dunivan says the RAVE Panic Button won't replace what schools are currently doing by way of safety. He stresses it will just make emergency response happen faster. He says there are different apps on smartphones that allow for immediate response, depending on the situation.
"We will have five different apps, which are different buttons on the smartphones that we can choose from. One would be for a shooter, one would be for fire, one would be for police, one would be for medical. By punching any of those on the app, it will automatically help us notify the proper individuals through the Smart911 system to automatically come render aid."
He says the system will also alert trained personnel on school campuses so aid can be rendered while they are waiting for officials to arrive.
"Let's say there is a medical need at the schools. Once that app is used, they can grab their cell phone and touch the medical app on the phone. At the same time that app is contacting emergency personnel and ambulance services, it also will contact those on campus who are trained to treat emergency, such as school nurses. Those who are trained in CPR or how to work a defibrillator would also be called to the scene, depending on the circumstances."
Dunivan says that if the RAVE system is attempted to be used outside of the school district, 911 would be called, but all services would not be contacted, like it would happen if the Panic Button was pressed in the school district. That is because all school districts are geo-fenced through Google Earth and the full services would work within the boundaries of the district. Nettleton is online with the program now and will be conducting a series of tests through the middle of October. He says it should be fully implemented by October 23rd.