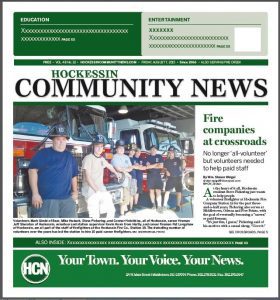 Smart Phone App Designed to Improve First Responder Conditions
A new program introduced by New Castle County Police will give first responders a clearer picture of what kind of situation they're walking into.
At a press conference on Tuesday, New Castle County Chief of Emergency Communications Jeffrey Miller introduced the Rave Panic Button app, currently being used in conjunction with several area agencies and school districts.
The app, which connects directly to the 911 Fusion Center in New Castle, gives responders access to floorplans, remote cameras, and other pertinent information when responding to an active public safety situation.
"The solution instantly dials 9-1-1 while simultaneously immediately alerting on-site personnel of the emergency and opening up a communication channel between responders and others involved in the incident," Miller said of the app.
Users hold down the virtual button for 1.5 seconds before it activates, Miller said. It then connects to 911, while the additional information comes into the Fusion Center.
The app is currently being used by a number of area agencies and businesses, including Concord Mall, the Jewish American Center in Wilmington, and the Red Clay Consolidated School District.
Only those authorized to use the app can initiate a call response, Miller said, and the department does not have random access to any cameras linked to the system.
"We can't hit a button and see out," he said. "The caller has to initiate the connection."
County Police Chief Elmer Setting said that the new program, coupled with the Targeted Analytical Policing System and the Smart 911 Fusion Call Center, puts the department at the forefront of hi-tech policing.
"We're cutting edge, technology-wise," Setting said. "This could save a lot of lives. The old way of doing this is, 'hey there's an emergency, throw all the resources at it,' not knowing what we need … now we're going to know that."
"Anytime that you can get better coordination and more information on a situation you're going into, it's helpful," said Emergency Medical Services commander Lawrence Tan. "The ability to get live information, not just from the caller, but also from cameras that provides awareness is a big benefit."
The program is part of incumbent County Executive Tom Gordon's initiative to bring hi-tech policing to New Castle County.
"Now all response units have more information and enhanced communication to arrive on scene faster to help those in need," Gordon said.
On Thursday, the NCCPD released information on CrimeMapping.com, a free public website that allows police agencies from across the United States to upload their own crime-data so that it can be mapped.
According to a press release, the website provides the public with an easy-to-use tool to view crime information in their communities. The interactive website will allow residents to review crime as well as submit tips in an effort to increase community involvement in investigations.
The website also has the option for citizens to sign up and receive crime alerts.
For more information on the Rave Panic Button, visit ravepanicbutton.com.
Source: Community News