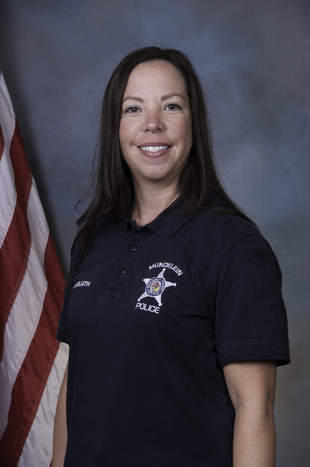 Vicki Dorjath of the Mundelein Police Department Has Been Named "Central Regional Winner" in this Year's Smart Telecommunicator Awards
Mundelein, Ill.—4-15-2014—Village of Mundelein 9-1-1 Dispatcher, Vicki Dorjath of the Mundelein Police Department, recently was named the 2014 Central Region Smart Telecommunicator winner for her outstanding dedication to her job and grace under pressure.
In September 2013, Dorjath took a 9-1-1 call from a Spanish-speaking caller who reported her three-year old daughter had been kidnapped. Dorjath's bilingual abilities were put to good use as she conversed with the frantic caller in Spanish, obtaining the vehicle make and only one number of the offender's license plate. Through her quick thinking, devotion to her job, and knowledge, she was able to jumpstart the investigation process and quickly identified potential suspects. Less than 48 hours later, the child was returned to her home and the kidnapper was in custody. Ms. Dorjath's nomination form for the Smart Telecommunicator Award provided a detailed account of her actions related to this incident, resulting in this recognition.
"Ms. Dorjath responded to a frightening and tragic event heroically and I applaud her professionalism and fast response. She went above and beyond the call of duty and she turned a potentially devastating occurrence into the best possible outcome. She is a hero to the family she helped, to the police department and to our Mundelein community. On behalf of everyone, I thank her for a job well done," said Mayor Steve Lentz.
"We would like to thank everyone who voted for Vicki for this award. Her actions and subsequent national recognition is indicative of her personal dedication to this profession and a wonderful representation of our Police Department," said Eric Guenther, Police Chief.
In addition to the Smart Telecommunicator Award, Smart911 will present a donation of $500 to each winner's charity of choice. Dorjath has selected Save a Pet, located in Grayslake, Illinois.
April is National 9-1-1 Education Month and the second full week is traditionally celebrated as National Public Safety Telecommunications Week, the week culminated with the Third Annual Smart Telecommunicator Awards. Across the U.S., 9-1-1 call takers and dispatchers (Telecommunicators) were nominated by peers and individuals for leadership, performance, compassion for callers, ability to inspire co-workers, and overall contributions to their Public Safety Answering Points (PSAPs). Twenty finalist entries were then selected for an online public vote. Thousands of people nationwide cast their votes.
Ms. Dorjath will be formally recognized for this national honor at the Village Board Meeting on April 28, 2014.
Posted: April 16, 2014
By: Mundelein Police Department