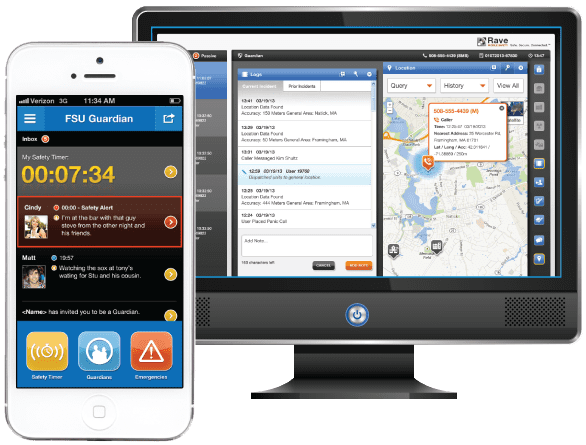 Guardian App: new smartphone app rolling out on college campuses aims to promote the utmost safety of students & empower them in risk management
A new smartphone app has been rolling out across mobile phones of college students as introduced by the Department of Public Safety in UNC-Chapel Hill, which aims to promote utmost safety of students and empower them in risk management.
The app is available for iPhone and Android smartphone users. It is called Rave Guardian and is available for acquisition at present. The app permits you to assign your Guardians, which may be your parents, friends, and even roommates. Rave Guardian will inform your Guardians while you are on your way to campus to another area.
The spokesperson of the Department of Public Safety, Randy Young, also explained the security timer feature, which will indicate whether you have reached the school premises or where you are about to head. If the timer is deactivated and you cannot be reached, officers of Public Safety in UNC will send off an officer to check on you.
Rave Guardian can also serve as your means of communicating with the campus police, especially if you have seen something wary. Just capture a photo of what you have noticed and send it via the app.
UNC senior Natalia Gonzalez favored the mobile app feature of delivering SMS tips to officers. Gonzalez claimed that it is helpful if you are not certain whether what you have noticed is important or not. At the very least, you may just send a text instead of calling.
Mobile app has become the means of extra security for Duke University students. The start of the semester marked the capability of students to contact the campus police via text messages. The VP of Administration in the campus, Kyle Cavanaugh, conceives the application of mobile app very effective in standing in for 911 support, but in a joint text messaging form instead.
Paul Grantham, the spokesperson of Duke University, said the existing mobile app of the campus is now infused with the two-party SMS function. According to the 2013 records, Duke mobile app has been downloaded 2,500 times.
Rave Guardian's success is yet to be declared, according to administrators of UNC. They conceived the app to be assistive in paying heed to the safety of 44,000 students, staff, and faculty members. On a daily basis, the app is anticipated to make the responsibilities of 60 affirmed officers easier.
Young claimed that it will be assumptive to conceive that the officers will be the eyes and ears of the school area. But still, the management is hoping for a cooperative work with the university. If students notice apprehensive activities, the officers are always available to attend to their safety needs.