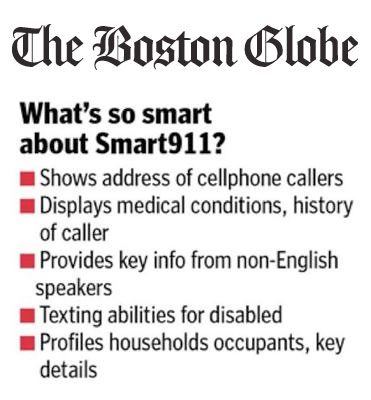 Milford will be the first Massachusetts municipality to deploy a system from a local technology company designed to help emergency dispatchers handle the flood of calls coming into 911 centers from mobile phones.
The town plans to announce Tuesday that it will start using Smart911, a system from Rave Mobile Safety in Framingham that is used by municipalities in 28 other states.
Among its chief advantages is that it can quickly show dispatchers home addresses and other critical data about people using cellphones for emergency calls.
Even though about 70 percent of 911 calls are made on cellphones, most dispatch centers can determine only the general vicinity of callers, based on the location of the nearest cell tower.
Calls made from land lines show dispatchers the addresses registered to the phone number.
This means that dispatchers typically have to get exact addresses from callers. That can prove difficult in some emergencies, such as when a caller doesn't speak English or doesn't know his own address.
"Most of the 911 systems today are pretty much tethered to last-century voice technology," said Brian Fontes, chief executive of the National Emergency Number Association, a trade group based in Alexandria, Va.
While the vast majority of Americans own cellphones, most of the more than 6,000 public safety emergency-call services nationwide cannot take advantage of these technologies, Fontes said.
Some governments are beginning to test ways of integrating more Internet-centric communications into their systems as part of national push to create a so-called Next Generation 911 system, he said.
One of the last significant upgrades to 911 infrastructure was the arrival of Wireless Enhanced 911, or E911, about a decade ago. That gave dispatchers a better ability to track cellphone calls.
But the next generation of tech-savvy 911 systems could be years off, Fontes said, and companies such as Rave Mobile and others are "filling a void that exists today."
For Smart911 to work, a resident­ has to a create free account on the Web that identifies the home address for the cellphone number and provides other personal and family details, including the number and ages of the occupants in that home, and information on disabilities or medical conditions.
"Anything that you think could assist in the case of an emergency. You can put as little or as much data as you're comfortable with," said Tom Axbey, chief executive of Rave Mobile, an eight-year-old company with about 52 employees that has raised $39 million in venture funding.
The system has already helped out in many emergency situations, he said, such as when a Spanish-speaking caretaker in Nashville called 911 when the child she was watching had trouble breathing. His parents had created a Smart911 profile, and the first responders knew the boy had a rare breathing disorder before they arrived.
It will cost Milford about $55,000 over the life of its five-year contract with Rave Mobile to integrate Smart911 into its existing emergency dispatch system, said Police Chief Thomas J. O'Loughlin.
In coming months, the town will begin a campaign to encourage residents to create Smart911 profiles.