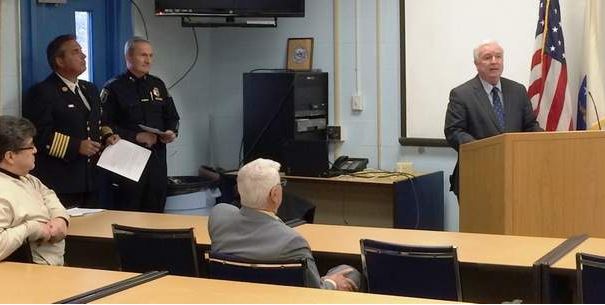 Medford Safety Officials are Encouraging Residents to Share Certain Types of Personal Information Online to Help 9-1-1 Respond to Emergencies Quicker and More Efficiently.
The city recently purchased a service called Smart 911 that stores information shared voluntarily by residents and keeps it on file for emergency response teams.
Residents can sign up for the free service at www.smart911.com and share as much information as they want, such as the number of people who live at a residence, location of bedrooms, allergies or medical conditions, vehicle registration and even descriptions of pets.
Users can also share information about their families, which officials said could help responders looking for a missing child or an Alzheimer's patient wandering away from home.
Medford police and fire officials joined Mayor Michael J. McGlynn and Medford state Rep. Paul Donato at a press conference Feb. 27 to reveal the service. Dispatchers in the city's combined fire and police 911 center then demonstrated it by making a trial 911 call, which prompted a window with information about the caller to open on the dispatcher's computer screen.
"When a caller is frantic or if it's a small child or the situation hinders the caller's ability to give us the accurate information, their safety profile will provide those missing details that can help us to determine the appropriate response," said Police Chief Leo A. Sacco Jr.
The site also allows users to provide data that could help emergency management officials during a natural disaster or severe weather, such as information about medical devices that rely on power or conditions indicating a resident might need help evacuating.
Medford joins a handful of communities statewide now using Smart 911, including Milford, Framingham, Blackstone and Stoughton.
Information shared on the site is available to emergency responders in more than 450 towns nationwide that have adopted the service, meaning a 911 call from the cell phone of a Medford resident visiting Washington D.C. would pull up the caller's safety profile for local authorities.
"If in fact the phone was cut off, there's a mapping system that can take you within 100 feet of where that call was made," McGlynn said.
Dispatchers are not able to continue tracking calls from mobile phones using the normal 911 system, police and fire officials said.
Representatives from Framingham-based Rave Mobile Safety, which started Smart 911 three years ago, said information shared by users is kept private.
"This is information you would be telling 911 over the phone if you had an emergency," said Jessica Rose, the company's community marketing manager. "This is not Social Security, credit cards, anything like that."
McGlynn said the city learned about Smart 911 from Rave's director of public safety sales, Tim Convery, a Medford resident.
Medford Police Capt. Barry Clemente helped the city acquire and implement the service.
Clemente said he would help residents who don't have access to the Internet or aren't comfortable using a computer sign up for the service. He plans to make visits to Medford's Senior Center and set up times to meet with residents throughout the city.
Non-residents can also sign up for the system, which is encouraged for those who work in Medford or commute through the city.
"You can list your office address, which is great," Rose said. "If you're in a building that has multiple levels or a larger building, they have no idea where in the building you are."
The site requires users to update their profiles every six months to ensure authorities the information is accurate. The company sends emails and phone calls asking users to either confirm their profiles are up-to-date or reminding them to input accurate information. If users don't do one or the other, the information does not pop up for dispatchers when they call for help.
Medford Police Lt. James Colorusso said the department used to ask residents with disabilities to fill out a paper form for police to have on file, but dispatchers and responders never knew whether the information was still accurate.
"People come, go, leave — no one ever tells us," Colorusso said. "We did that twice, and it got to the point where we couldn't depend on the information anymore because it was old. Now, if it's older than six months, we won't even see it anymore."
Colorusso trained 22 Medford dispatchers to use the service last week. He said the training is simple and mostly involves becoming familiar with the safety profile that pops up when someone calls.
Posted March 5, 2014
By Alex Ruppenthal, Wicked Local