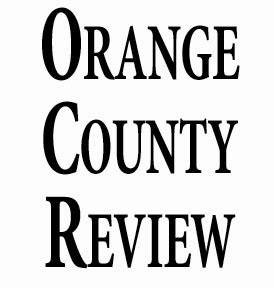 More than a dozen local emergency personnel were recognized recently for their roles in recent lifesaving events. During a ceremony at the Gordon Building in September, friends, family and fellow first responders gathered to celebrate citizens who used the county's Smart911 service to save lives.
Smart911 is a nationwide service that allows those who make a Smart911 profile to provide information about themselves or their families that might serve helpful during an emergency. On a Smart911 profile, citizens can add pictures of family members, information about severe allergies or other conditions, pictures and information about their houses, what vehicles they drive, information about pets they own, emergency contacts and any other information that could aide in an emergency situation.
In 2011, Orange County became the first county in the state to deploy the free service to its citizens. Since then, Orange County E-911 Center Director Nicola Tidey and her team have been trying to encourage all county citizens to signup for the service which can provide critical information in an emergency situation.
"I would just like to take this opportunity to encourage all the citizens of Orange to consider creating a Smart911 profile," John Harkness, chief of Orange County Fire and EMS, said. "Information is power, whether it be in law enforcement, fire and EMS or for your own safety."
Among those at the event were John and Carol Nettles. This summer, the Nettles experienced firsthand the impact having a Smart911 profile can have.
On July 2, John Nettles was doing some fence mending on his farm in Rapidan when he began to have chest pains. When he called 911, dispatchers were able to see the Smart911 profile his wife had created for him. That information was relayed to the responding paramedics, who, en route to the Nettles' farm, were able to review his medical history. While being transported to the hospital, Nettles went into cardiac arrest. After pulling off the road to treat Nettles, the medic unit called Martha Washington Hospital to alert them of the incoming patient.
Once the medic unit arrived at the hospital, Nettles was immediately transported to the cardiac catheterization lab. After several days, Nettles was able to return home.
"Having the information from Smart911 and teamwork from the E911 center and the county fire and EMS saved Mr. Nettle's life," Tidey said.
Nettles' wife Carol created his Smart911 account after reading about the program in the newspaper. A former nurse, she said the profile was easy to create and she felt it was necessary given John's medical history.
"I'm not an expert on it, but I think the Smart911 system, her [Carol] and them [the paramedics] had a lot to do with saving my life," John Nettles said.
Orange County Fire and EMS Lt. Kyle Ronn was one of the responding medics. He said having Nettles' Smart911 profile allowed the medics to prepare for the situation before arriving.
"I would absolutely recommend having it," Ronn said. "Even if it's the most basic information of this is who I am, this where I live and these are my medical problems, it's a huge head start. It's a great thing for the first responders to know the problems you have, the medications you take and allergies that you have."
Carol Nettles said they feel blessed to have had the outcome they did. The Nettles said not only did the Smart911 information play a critical role in saving John's life, but the work of the team responding to the emergency.
"I was really more of an observer," John Nettles joked.
Nettles said while he served in Vietnam, and later worked as director of emergency management for the Department of Energy, he said the smartest emergency personnel he has met were the people in the room.
"We're very blessed in Orange County," Harkness said. "We have a tremendous emergency response system. It starts at the 911 center, where they're able to provide critical lifesaving information, whether it be from an EMS or Fire perspective to working closely with the sheriff's department. We also have the Smart911 program that a lot of the large localities don't have."
The dispatchers and first responders who helped save Nettles received Smart911 Save Awards and were later recognized by the Orange County Board of Supervisors with lifesaving awards. Those receiving awards for their role during the Nettles call include: Lauren Lubbers and Peggy Helmick of the E-911 center and Donnie Letter, Kyle Ronn and Roger Wilson of the fire and EMS department.
Those involved in the Nettles call weren't the only ones honored.
Orange County has used other Smart911 features to aide in other lifesaving events.
Heather Brown and Jason Guckert from the E-911 center and Xiushka Serrano and Stacey Daniel from the sheriff's office received Smart911 Save Awards for using the Smart911 Chat feature to locate a female who had been assaulted.
One of the most important features of Smart911 is the chat feature, Tidey said. The feature allows dispatchers to engage in conversations with people who are non-verbal, hang up, where there is poor coverage or when calls are dropped.
Eight people received save awards for their roles in locating a subject that had overdosed through Smart911 Chat. They include: T.J. Lettner (E-911), Angelina Bragg (E-911) and Bobby Bragg (Orange PD). Sheriff's office personnel aiding in the call include: Kyle McGinnis Jason Covington, Courtney Strawser, Pamela Walker and Ken Licklighter.
Eight others were recognized for their role in utilizing Smart911 Chat to help an individual who was suicidal. They are: Heather Brown and John Pollina (communication officers), Courtney Strawser and Andrew Ellinger (sheriff's office dispatchers) and Michael Silberman, Bobby Bragg, Wesley Spicer and Jesse McClanahan of the Orange Police Department.
To create a Smart911 profile, visit Smart911.com. For more information on Smart911, visit Smart911.com, www.orangecountyva.gov/E911 or contact the Orange County Emergency Communications Center at 672-1234.