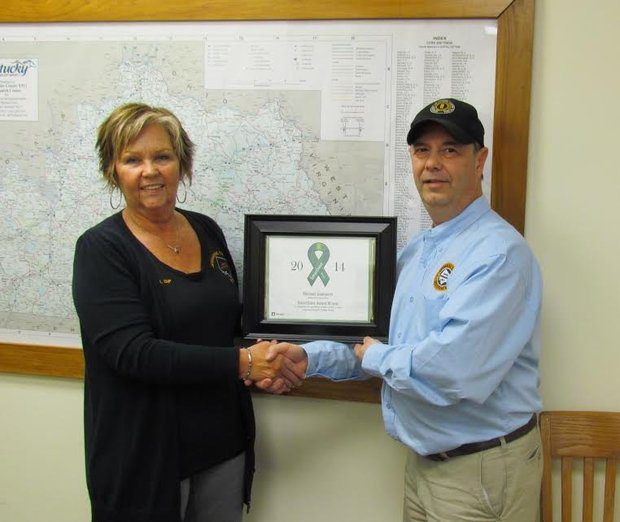 Jessamine County E-911 dispatcher Michael Sakowich was recently presented with a SmartSave Award from Smart911 for his efforts to aid a citizen in need by using the Smart911 profile program.
Smart911 is a program designed to improve emergency response. Residents can visit the system's website and create a profile that will provide dispatchers with any pertinent information should a future emergency occur, such as directions to a residence, photos, medical information, language barriers, etc. It allows fire crews and EMS to be more prepared in how to handle an emergency.
The system also includes a text messaging service, which allows those in potentially dangerous situations, such as a break-in, to text dispatchers instead of speaking out loud on a phone call.
"It's just another tool that gives the dispatcher more information," Jessamine E-911 deputy director Tammy Durham said. "The person can share as much or as little information as they want."
In early January, Sakowich put the Smart911 program to use. The dispatcher received a cell phone call from a Nicholasville resident who reported that someone was trying to break into her home. The audio on the call was very poor, and the resident was afraid to speak too loudly for fear that the intruder may hear.
Using the Smart911 profile that became available upon receiving the call, Sakowich was able to dispatch police to the person's home address, using the resident's vehicle information to confirm that the police had arrived at the correct location.
Because the information was already provided to the dispatcher, the resident had to do little talking, maintaining their safety.
"We get so many calls from cell phones, and there is always vital information we need to confirm verbally such as their name, location, or what the nature of their emergency is," Sakowich said. "Having the safety profile available was a great benefit because I already had the information she wasn't able to confirm for me. Without these details, it would have taken more time to get police to her house to investigate the situation."
This is the first time the Smart911 program has been used for an incident of this nature since it was put in place in Jessamine County two years ago. However, Durham encouraged residents to get online and fill out a profile, just in case this type of emergency ever occurred.
"Had she not had a Smart911 profile, we would have not been able to establish a better conversation with her," Durham said. "With her having a Smart911 profile, we already knew what the address was. We already had all the information she had put in there for us."
With this award, Sakowich received national recognition for his work by all other E-911 organizations using the Smart911 program.
Jessamine County is one of only five counties in the state to utilize this program. It is provided to residents free of charge by the Jessamine County Fiscal Court.
Posted: February 19, 2014
By Alli Collis, The Jessamine Journal