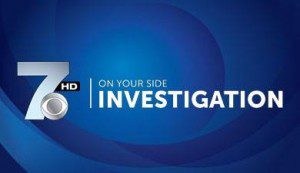 Cherokee County 911 Dispatchers Said They Had Plans to Save Lives. 7 On Your Side Finds Out What They've Accomplished.
GAFFNEY, S.C. - After a 7 On Your Side investigation uncovered a dangerous computer glitch that could delay first responders during fires, police calls and medical emergencies, Cherokee County 911 dispatchers promised to increase training and introduce new systems to protect people in need.
In a follow-up investigation, 911 Director Reggie Petty said his staff was engaged in weekly hands-on training and trying to enroll as many people as possible in a sophisticated new software tool called "Smart 911".
In February, Lacey Burchfield was sleeping in her Blacksburg trailer when an electrical arc from her new washing machine sparked a fire. Separated from her three children who were sleeping on the opposite end of her home she raced outside and, with the help of neighbors, pulled two children outside. Her three year old son remained trapped inside and hidden by the smoke.
Neighbors called 9-1-1 and recordings of those calls show dispatchers given the correct address on West Carolina St.
Station 9 of the Blacksburg Fire Department is one mile from Burchfield's home and was close enough that volunteer firemen could see the smoke rising from her trailer. Instead of dispatching those engines, Cherokee County 9-1-1 instead sent units from another station to West Carolina Street in Gaffney.
"We're still standing there, standing there, and then everybody else is saying we've called the fire department," Burchfield said.
Petty said the problem emerged because the computer aided dispatch system "CAD" failed to recognize Burchfield's address and simply skipped to the most similar name.
7 On Your Side contacted several Upstate fire chiefs to ask if the problem of similar sounding names causes problems. Gaffney Chief Jamie Caggiano offered one such example.
West Fairview Avenue in Gaffney dead-ends before East Fairview Avenue begins several blocks later. Fairview Road is 14 minutes away in rural Cherokee County. Caggiano said sometimes callers weren't sure which section of road they were on and dispatchers would have to be responsible for making the right decision.
"One of the main things we always try to ask the dispatcher is always try to get a cross street and try to get as much information as they can," Caggiano said.
Petty offered to demonstrate some of the ways his staff would rise to the challenge. They include giving dispatchers difficult to find addresses and sending them out to find them. 7 On Your Side watched as dispatcher Brooke Jackson tracked down one address hidden from the road.
"I didn't see the numbers on the mailbox," Jackson said after finding the address.
The exercises help dispatchers learn the lay of the land and learn visual cues that could help them guide first responders to the correct address. They've also gotten more training on asking good questions of callers who may know little of their location, like nearest cross street or if there are cars in the yard.
Most important, Cherokee County unveiled the Smart 911 program. Click HERE to sign up. The program allows Cherokee County residents to provide detailed information about their home and the people inside. That information is not publicly available and dispatchers only see it after someone calls 911.
In Burchfield's case, the Blacksburg station was dispatched six minutes after the first 911 call. Firefighters found her son curled up on the floor. All three children are doing well.
Posted on Jul 10, 2014
By Gordon Dill, Anchor / Reporter