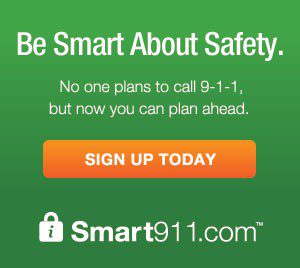 Roscommon County Central Dispatch will have one more line of defense in serving the citizens of the county as E911 Director Vance Stringham was authorized to purchase Smart911 Service software. During a March 11 Roscommon County Board of Commissioners meeting, Stringham explained how the software will enhance contact information and services to those the center serves.
In a March 13 telephone interview, Stringham said that the Smart911 Service is different from the Nixel notification system that is currently used by the Roscommon County Emergency Management Department. He said the Nixel program utilizes "reverse notification" meaning that a message is sent to citizens in emergencies or times when messages need to reach the public. The Smart911 Service is software that is used when a citizen contacts central dispatch.
The way the program works is that citizens voluntarily provide contact information to E911 through Smart911 Service software. He said citizens and businesses can voluntarily create a profile and tie it to specific information like cell phone numbers. Profiles can be made by visiting www.smart911.com.
When a person calls 911 and they have created a profile, Stringham said the additional information they provided is accessed through central dispatch. He noted that citizens do not have to worry about their information being compromised as it is a secure system.
"It is secure, it is not owned by 911, it is owned by the citizen," Stringham said of the citizens' information. He noted that E911 cannot access any information that citizens provide unless the citizen calls central dispatch first.
He noted that in the event of an emergency at a business, contact information provided in the profile can be accessed by E911. He said if a business is closed and an incident occurs after hours, central dispatch can access information provided in the profile on those who have been designated as an after-hours contact person.
The Smart911 Services software was purchased for a price of $10,125 and includes a software license, set up of the program, installation and a one-year annual license for a five-year contract period. Stringham noted that now is the right time to purchase the program because the state is offering a limited time discount of 50%.
Stringham noted that he used the program while he was working in Grand Traverse County. He said that a resident had called central dispatch from a cell phone and was unable to speak, however, his wife had provided information through Smart911 Service and central dispatch was able to locate the caller. Stringham noted that the program will prove to be an asset to the county.
"It's just a lifesaver," Stringham said.
The board also approved a resolution bringing the Roscommon County Blodgett Memorial Airport taxi-way expansion project to an end. Chairman Bob Schneider was authorized to sign documentation on behalf of the county, bringing the project to a close.
Gypsy Moth Suppression Program Coordinator Lucille Eisbrenner provided the board with an update on the program and discussed using Al's Aerial Spraying, LLC, as the program's spray applicator. A motion was approved to enter into a three-year contract from 2015- 2017 with Al's Aerial Spraying, LLC, for pesticide application. A fee of $25.99 will be charged per acre of land sprayed, however, a fuel cost clause will be determined at the beginning of each spray cycle. The total acreage for the 2015 spraying season will be 17,250 at a cost of $448,327.50.
Eisbrenner added that the gypsy moth program will also be holding an open house at the Roscommon Area District Library on April 7 from 3 to 6:30 p.m. She said the open house will provide landowners with an opportunity to gather information on the program by talking with representatives from the gypsy moth program and from other community resources and service groups who work with the program. Eisbrenner told the Resorter that the goal is to pro- vide a family-focused event and there will be children's activities on hand. For information on the open house, call Eisbrenner at 275-7135.
During unfinished business, Commissioner David Russo (District 1) provided the board with a recap of a Feb. 27 meeting he had with Department of Natural Resources Wildlife Biologists Mark Boersen and Erin Victory regarding adjusting the outflow of the Reedsburg Dam to help alleviate spring flooding at Houghton Lake.
He was told by Boersen and Victory that the flow would not be adjusted as a 1954 hydro study has indicated that adjusting the flow at the Reedsburg Dam wouldn't alleviate the flooding of Houghton Lake. Russo said that after the March 5 article "DNR: Opening flow at Reedsburg not solution to high water at Houghton Lake" was published, he has received inquiries from residents asking questions about how to address the flooding problem.
Russo questioned the fact that a study has not been done since the 1950s and noted that he wants residents to know that he hasn't given up on the problem. He added he is trying to be proactive on the matter of flooding and trying to make progress on the matter.