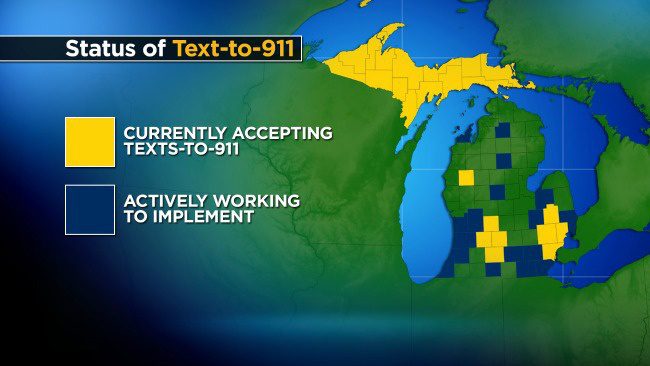 WEST OLIVE/IONIA, Mich. (WOOD) — More dispatch centers across the United States, including some in West Michigan, are looking at implementing text-to-911 services.
The increased interest in text-to-911 comes in the wake of the Orlando nightclub massacre that left 49 people dead. Many people in the club texted family and friends to call 911 because they couldn't, and there was no option to text dispatch. Ottawa County, along with Kent, Allegan and Van Buren counties, have told the state they are actively working to implement text-to-911.
"We've been looking at implementing texting for a little while now, some other folks in the state and throughout the country have implemented it. We do have it on our radar screen to have it in by the end of the year," said Tim Smith, the executive director of Ottawa County Central Dispatch.
Out of the more than 6,000 dispatch centers nationwide, a little more than 650 can accept text messages.
While Ottawa County doesn't have text-to-911 yet, for more than two years they have had Smart911 which allows people to build a profile that dispatchers can see when you call in. It also gives dispatchers the ability to text out to you.
"What we have found in several situations is during a domestic situation is somebody will call and they will hang-up because they are under immediate threat and they can't talk but they are able to text," Smith said.
Ionia County has had text-to-911 for about a year, allowing people in need of help to text in versus calling.
"The dispatcher immediately will want to know their specific location because with the system we have no means to locate that particular cell phone," said Jim Valentine, the director of Ionia County Central Dispatch.
Valentine said the text-to-911 has worked well in his county.
"Recently we had a domestic violence encounter where the lady was unable to call, she was afraid to call, frantically texting us and she was able to receive police response immediately because of that," said Valentine.
He also supports more dispatch centers adding the service as well.
"There are situations with either texting system that can be very beneficial if someone is in grave danger," Valentine said.
Even with the ability to text, authorities prefer you call 911 over texting if you can because dispatchers can get more information quickly.
"The tagline is: Call if you can, text if you can't."
On Tuesday, 911 dispatcher Riley McKillen from the Ottawa County Central Dispatch is being recognized for her outstanding efforts to aid a citizen in need using Smart911.
Last month McKillen received a 911 call that was quickly disconnected. After an attempt to call back that went unanswered, McKillen initiated a text conversation using the 'Chat' feature of Smart 911. The caller quickly responded to McKillen's text stating that she had been assaulted in her home, and the male aggressor was still on the premises.
Through text, McKillen was able collect information from the caller, such as where she was located and important details about the scene that were relayed to responding officers.
The conversation via Smart911Chat continued until the officers arrived at the residence. Police quickly arrested the male subject who is being charged for domestic assault and battery.
By: Tom Hillen
Wood-TV