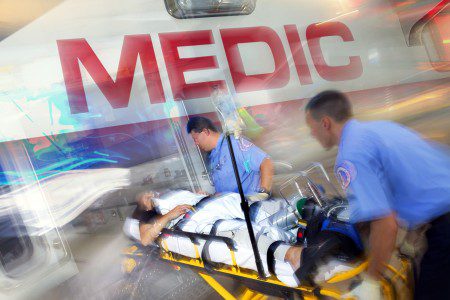 BERNARDSVILLE – The Bernardsville Police Department's Office of Emergency Management is rolling out a new service to aid in emergency preparedness and response for the community.
The borough has entered into an agreement with Rave Mobile Safety to provide the Smart911 program to the community, according to Police Chief Kevin Valentine.
Smart911 is a free service that enables citizens to create a "Safety Profile'' for their household or business with information they would want emergency responders to know about in the event of an emergency. These details can include general data on a household - ranging from the identity of residents, locations of bedrooms and utility information - to specific details about disabilities and medical conditions requiring such things as oxygen, dialysis and more.
Subscribers provide as much or as little information as they a comfortable with. Police Department officials can use this data to identify needs in the community and expedite emergency response and recovery efforts during emergencies.
In addition providing preparedness information citizens can opt-in to receive emergency notifications from police on their cell phones and via email. Bernardsville is the first municipal police department in the state of New Jersey to utilize the Smart911 program.
"One of our primary objectives is to prepare for the impacts of a disaster, in order to lessen its consequences," said Chief Valentine. "A significant portion of our planning activities attempt to address the specific needs of members of our community. Having advance knowledge of which residents require assistance greatly enhances our ability to respond and provide assistance during emergency situations.
Incidents of fallen trees, flooding, snow storms and power outages might present certain hazards and challenges where the system will be utilized,'' he said. "By also opting in to emergency notifications, citizens can receive immediate messages regarding all emergencies."
For example, during a weather emergency which may cause a power outage, officials can determine which residents may require power for medical conditions, who may need assistance evacuating their homes, and even require special assistance with the handling of pets.
A Safety Profile is safe and secure, Valentine said, and each citizen manages their own information. The availability of these details will enhance the department's capabilities preparing the whole community for a disaster or other emergency, not just those with functional or access needs.
To participate in the program, citizens can visit www.smart911.com to create a Safety Profile. Smart911 is also a national service used by many 9-1-1 centers across the country.
As a result, if a registered Bernardsville resident ever needs to dial 9-1-1 in any of the 450 communities across the United States using Smart911, the information they entered in their Safety Profile will appear to the 9-1-1 dispatcher in that location, potentially aiding in a fast and accurate response to their emergency.
Smart911 is a product of Rave Mobile Safety, a software partner for campus and public safety agencies and organizations.
Members of the Police Department are working with volunteers from the local Office of Emergency Management Community Emergency Response Team (CERT) to get residents to register for Smart911. Officials will be reaching out to local community groups and service providers in the area to get as many people to sign up as possible.
"The success of this program will be determined by the amount of community involvement we receive", said Bernardsville Detective Brian Kelly, the program coordinator. "It is important to get the word out and have people begin signing up as soon as possible."
Officials and volunteers will be attending public events such as the Bernardsville Street Fair on May 18, the Memorial Day Parade on May 26, and the local Farmers Market to get information about the program out in the community.
Employees and volunteers at the Bernardsville Library who are members of the CERT Team are also working with police to be available to assist residents in signing up for the program.