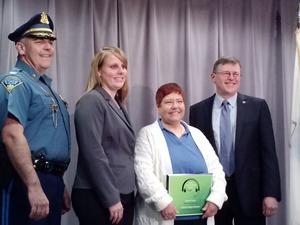 Over the last decade, Americans have become accustomed to hearing television and radio news stories that include dramatic conversations between 911 callers and dispatchers.
One local resident knows from long experience exactly what it's like to be person who is trying desperately to save a life. Lifelong Wellesley resident Patricia Furdon, a 33-year veteran with the Massachusetts State Police, recently became the recipient of the 2013 Smart Telecommunicator Award, a national award that recognizes the performance, professionalism and compassion of 911 dispatchers across the country.
Winners, selected by Smart911 from four regional areas -- the Northeast, Southeast, Central and Western parts of the country -- were nominated by their supervisors and peers.
Robert Nute, dispatcher at the Newtown Emergency Communications Center in Newtown, Conn., was the national winner. He took the calls during the Sandy Hook Elementary School tragedy. Furdon received the title as Northeast honoree.
In addition to receiving a Telecommunicator of the Year plaque from Smart911, Furdon also received a $500 charity designation. A breast cancer survivor, Furdon donated the stipend to the American Cancer Society.
In his nomination papers to Rave Mobile Safety's Smart911, former Furdon supervisor Thomas Keville, stated, "Patricia … has personally handled thousands of 911 calls during her career… She has always held a high standard of professionalism, year after year, while providing the highest level of care with every call. Her compassion, dedication, contributions, and consistency processing these calls are what set her apart…."
Patricia Furdon, known as "Patti" to her coworkers at the Massachusetts State Police Communications Section in Framingham, is proficient yet extremely caring in her job. She somehow manages to consistently maintain a cool, calm demeanor, despite the hysteria or antics on the other end of the line at times.
Furdon maintains that her rule is simple. "For me, it is important to treat the caller with respect, to treat them the way I would want to be treated," she said. "Compassion is a family trait instilled in me, my brothers and sisters. Our parents taught us the right way to treat everyone, with respect and compassion, and to offer a helping hand. They taught us how our religious beliefs play a part in our everyday lives and I thank my parents for that."
Furdon has handled calls in some of the most gut-wrenching and notorious crimes in the Boston area, like a 2010 child rape and home invasion case in Cambridge. In February 2013 Furdon testified in that case against Marcos Colono, who broke into the home of a Cambridge man, raped his 11-year-old son at knifepoint and tried to stab the father to death as the child watched. Colono was sentenced to nearly 85 years in prison, 60-70 years on the home invasion and aggravated rape charge and 14-15 years on the assault charge.
As a rule, Furdon tries to leave the anguish of calls in the office and does not take her job home with her, although she admits the tiny, shaking voice of the child in the Cambridge case was heartbreaking.
"Over the years I have been involved in many 911 calls, but the Cambridge call was tough. It was hard because it involved such a young child and his father in what was once their safe home," Furdon said. "It is very hard to understand how another human being can do such horrific things, especially to a child."
" I would say this was the worst call that I have taken in my career, and then to go to court and see this guy face-to-face," she continued, pausing and shaking her head in sorrow. "I'm glad I testified … the jury did their job after listening to the 911 call. He (Colono) tried to decapitate the father."
Another noteworthy call Furdon took involved the 2007 crime of Adam Leroy Lane, the truck driver who attacked a 15-year-old girl, Shea McDonough, in her bed in Chelmsford. Twenty-two hours before the attempted rape in Chelmsford, Lane had stabbed to death Monica Massaro in Bloomsbury, N.J. Additional victims were also discovered in New York and Pennsylvania.
"I had the daughter on the line who had called 911 while her parents were fighting Lane, who was attacking the other daughter with a knife," Furdon said. "I could hear furniture falling in the background. He ended up being a serial killer."
The case made national news. Shea's mother, Jeannie McDonough, who along with her father fought off the attacker, wrote a book about the incident titled "Caught in the Act." The case was also profiled on "48 Hours," the CBS television news program.
"My voice was heard nationwide on the '48 Hours' program, obviously recorded during the call. We don't even have a copy of that tape. Back then tapes were kept for a year," Furdon said.
In Massachusetts there are 278 Public Safety Answering Points (PSAPs) and three "wireless" PSAPs, at the State Police Framingham, State Police Middleboro and State Police Northampton. The State Police location in Framingham is the busiest 911 call center in New England.
"When someone calls 911 from their cell phone, we get the call. Landline calls go to the city or town in which you live," Furdon explained. "We (Framingham) handle Greater Boston, MetroWest, the North Shore, some towns on the South Shore, and the Worcester area."
According to an article in the May, 2013 Massachusetts State Police monthly newsletter, French and Electric Blue, "an estimated 200 million calls are made to 911 in the U.S. each year. According to the FCC, one-third are wireless calls. In Massachusetts, there are 1.8 million wireless 911 calls and 1.5 million wire line calls made per year."
Furdon explained that oftentimes callers do not know their location or do not want to disclose it. She recalled the time she received a call from a woman who was threatening suicide.
"Back then we didn't have tracking, and the lady just said that she was in Boston on a roof. I kept her on the line, taking notes, writing down what I heard. I engaged her in conversation. I ascertained that she liked orange soda, and then gradually obtained more and more information from her. I told her that I loved orange soda, too, and was going to buy some for us to share. Eventually, I found out she was at Logan Airport. A coworker called the State Police-Logan, who sent over a hostage negotiator," Furdon said. "You have to build on solid ground when you are talking with them, in order to build trust."
Because of her actions in the suicide case, Furdon received high accolades and was recommended to the State Police Awards Board in 2002. Lieutenant Donald Richer, Communications Section of the Massachusetts State Police, wrote, "It is this officer's opinion that Dispatcher Furdon's professional demeanor and actions on the night of September 13, 2002 averted a tragedy and resulted in a successful rescue. In my opinion, Dispatcher Furdon went well beyond what is expected."
Furdon had stayed on the telephone with the suicidal woman for more than 60 minutes, until she was able to ascertain that the woman was on the ledge of the seventh level of the airport parking garage.
"I do whatever it takes to save a life; I've talked to callers about being a cancer survivor, about losing my brother to illness; you just have to find common ground. And, I also work with the tools I have to locate callers and keep them safe. I use 911 mapping, Google map, and tracing, which is sometime necessary to do with the cell phone company," Furdon said. "I know we are going to lose some people, but I try to do the best I can. I had no doubt that she was going to jump. You know, I was told later that that tape is used for training at the academy."
Over the years Furdon has received many awards for her stellar performance as a 911 dispatcher. In 1990, she was the recipient of the Manuel Carballo Governor's Award for Excellence in Public Service from Gov. Michael Dukakis, the highest award for a state employee.
In 1999, she was nominated for the Commonwealth Citation for Outstanding Performance; in 2003 she was nominated for the Jeff Grossman 911 Award; and in April 2013, a Positive Observation Report was placed in her personnel file for her work during the Boston Marathon bombing.
Patricia comes from a longtime Wellesley family. Her brother, Robert Furdon, is a supervisor with the Town of Wellesley's water department. Another brother, William, Jr., who died in 1995 from a brain tumor, worked for the Wellesley Highway Department and an uncle, Thomas "Tiger" Furdon, was a Wellesley policeman for many years. Her father, the late William Furdon, who died earlier this year, worked for New England Telephone Company for 42 years, the majority of those years spent at the Laurel Avenue office in Wellesley.
"Not everyone can do this job. You must be willing to make some sacrifices in your personal life – work crazy, long hours, holidays, work a shift after your regular work shift ends, work weekends, snow storms, or any other incident that may arise," Furdon said. She lets out a laugh and glances toward the sky.
"You have to have patience to deal with all sorts of people who call 911 for help. You have to think on your toes, be firm, take control of the conversation; it is crucial to ask very important questions, like if there's a weapon(s), injuries; you must ask this for responding emergency personnel - for everyone's safety, not only the callers' but the people responding to help them."
Yet, Patricia Furdon loves her job of helping others. She has worked as a dispatcher since the early days when the headquarters were in downtown Boston at 1010 Commonwealth Ave. She moved with the department to the Framingham headquarters in 1993.
"If there is anything I can say, it is to tell the public that they have to be our eyes and ears," Furdon said. "When you see or hear something, you should notify law enforcement. You could help save someone's life or help defend our country. The need is great. We have to look out for each other in today's world."