VIDEO: WHAT IS THE PANIC BUTTON?
Panic Button Outreach Materials
WEBINARS
Sign up for a biweekly training webinar that goes over the basics of setting up Rave Panic Button. Select the date that works best for you.
PANIC BUTTON FLYER FOR SCHOOLS
Print or email this flyer to help promote the use of Rave Panic Button within your schools.
Download
PANIC BUTTON OVERVIEW FOR 9-1-1
Click here for an overview of Oklahoma's School Safety Initiative.
Download
PANIC BUTTON OVERVIEW FOR FIRST RESPONDERS
Coming Soon.
FREQUENTLY ASKED QUESTIONS
Help educate your community on Rave Panic Button with these FAQs.
Download
RAVE ACADEMY/ONLINE TRAINING
Access online training courses and videos for Rave Panic Button.
New Users – Course Code: OKPANICBUTTON

Panic Button and the OSDE
The Rave Panic Button alerts authorities to an active shooter, a medical emergency, a fire, or other crisis. The app simultaneously sends out a notification to other teachers and staff on campus as well. This reduces the time it takes for staff to implement emergency response.
The Oklahoma State Department of Education now offers the Rave Panic Button to all public K-12 districts across the state. Get the flyer for more information on Oklahoma's text-a-tip Eyewitness program: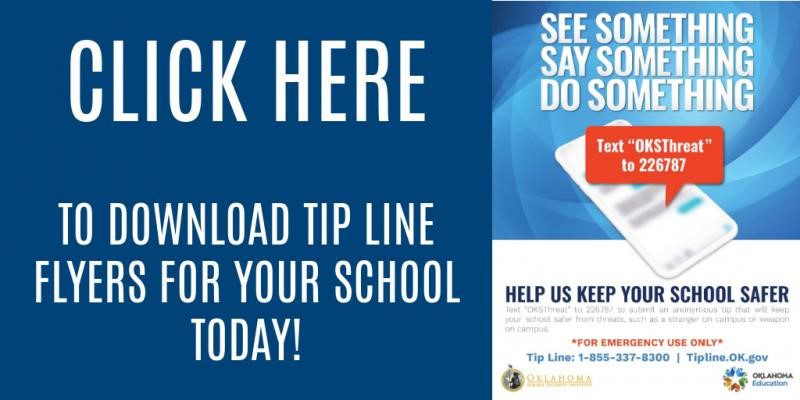 Please complete the form below to strengthen your schools' safety and security preparedness efforts. If you have already started building out your Panic Button profile and need help or have a question, please send an email to techsupport@ravemobilesafety.com instead of completing the form.